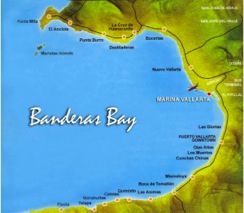 Chartering a catamaran in Puerto Vallarta is the sailing vacation of a lifetime... Banderas Bay is a world-class coastal cruising experience for half the price of the Caribbean.
(PRWEB) September 27, 2011
Catamaran Charters Vallarta announces scheduled Sailing Vacations departing from Puerto Vallarta beginning December 2, 2011 for only $200 per day, per person (based on double occupancy) all-inclusive.
This four-day, three-night Vallarta Sailing Vacation departs Friday, December 2nd and returns on Monday, December 5th. Guests embark on an extraordinary four-day sail aboard Humu Humu, a 70-foot, highly stable sailing catamaran as their own private vessel.
A joy to explore, Banderas Bay is the 4th largest bay in the world and the largest in Mexico. The bay teems with marine life, while tropical beaches and villages dot the shoreline. The sights, smells and sounds of this sailing vacation will be remembered for years to come!
Many people know about sailing vacations on crewed catamaran charters in the Caribbean. Catamaran Charters Vallarta has introduced this exclusive vacation concept to Puerto Vallarta at half the cost of other tropical locations.
Catamaran Charters Vallarta clients requested an all-inclusive, catamaran charter sailing vacation on a scheduled basis so they could plan a sailing adventure ahead of time. Catamaran Charters Vallarta is pleased to announce the first scheduled, 4-day sailing vacation for sailors and non-sailors alike.
Humu Humu sleeps 6 people in 3 queen staterooms, perfect for 3 couples or a family adventure. All three cabins must be booked as dual occupancy in order to offer this price*.
Picture this: the itinerary begins at the Paradise Village marina and heads north on a sunset sail with cocktails and appetizers followed by dinner. Humu Humu anchors in La Cruz, a sheltered harbor for the night. On Saturday, breakfast is on board while under sail to Las Marietas Marine Preserve for snorkeling and exploring. An afternoon of sailing ends in Punta de Mita, a luxury destination at the northern most tip of the bay and our anchor for the night. Choices include a sunset dinner aboard or going ashore and dining on the beach with the jet set. On Sunday, Humu Humu sails south, exploring Banderas Bay. Dolphins ride the bow, sea turtles or giant rays glide by and breaching whales are a common sight. Next the boat heads over to Quimixto, a fishing village that can only be reached by sea. All ashore to ride horses on the beach, explore the waterfalls, meander the village or do some surfing. The voyage anchors here for the night and Monday morning Humu Humu stops at Las Animas to parasail or jet-ski before heading to Los Arcos Marine Preserve for diving or kayaking. Then it's billowing sails back to Puerto Vallarta in plenty of time to catch a plane or continue vacationing on land.
Groups can also add a day or more to this sailing vacation… there is so much to see and do in this unforgettable sailing adventure.
*Bookings will be confirmed when all 3 cabins are reserved. Bring family and friends or make new ones! Reserve all three cabins for $1,200 a day for up to 6 people.
# # #