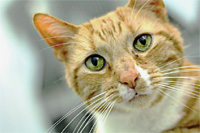 We are close to capacity and cats and kittens are still coming in
Pittsburgh, PA (PRWEB) June 05, 2012
Continual overcrowding of cats and kittens at the Western PA Humane Society North Shore Shelter and Fallen Timber location in Elizabeth will result in significant discounts for adopters on cats and kittens at the Western PA Humane Society shelters throughout the month. "We are close to capacity and cats and kittens are still coming in," says Donna Bucek,, the Director of Animal Services at the Western Pa Humane Society. "Adopting all healthy adoptable felines is our goal we NEED to find foster and adoptive homes for these animals as quickly as possible to ensure that we have room for the new homeless pets coming in daily. Since May 1st we have been averaging 24 felines (cats and kittens) surrendered to the WPA Humane Society EVERY day."
ALL CATS over the age of 6 months may be adopted for ½ COST (normally $30 is reduced to just $15) to qualified adopters. All cats and kittens adopted from the Western PA Humane Society are spayed or neutered, vaccinated with age appropriate vaccines, micro-chipped, and feline leukemia tested.
Representatives of a local foundation heard about the overcapacity at the Western PA Humane Society and gave the shelter a gift of EN VOGUE/PSO Community Partners Tickets to help encourage adoptions. Every person that adopts a kitten or a cat will be given two tickets to attend the Pittsburgh Symphony Concert June 29, 2012 at 7:30pm while supplies last.
For anyone willing to adopt, please talk with one of our adoption counselors about adding a beautiful new feline companion to the family. If someone is willing to open their home temporarily as a foster home please contact the shelter at 412.321.4625x221 or on the website at http://www.wpahumane.org/foster.html
The Western PA Humane Society is one of the oldest Humane Society's in the United States, serving Pittsburgh for 138 years. The Western PA Humane Society is an "open door" shelter, meaning that they take all animals into their facility without a waiting list or a required fee (although the shelter does ask for a donation when animals are being released to their care.) Last year the Western PA Humane Society took in almost 13,000 unwanted animals. To see photos of adoptable pets and to find out more information please visit http://www.wpahumane.org.