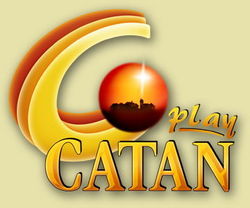 Oakland, California (Vocus) December 1, 2009
On the official Catan website, PlayCatan.com, people from all over the world are gathering to play Settlers of Catan and other games absolutely free. Through word-of-mouth, English-speaking fans of this popular German game have found the Catan Online World by the thousands. In fact, since the introduction of the English version 18 months ago, the number of English-speaking players has already greatly surpassed the number of German players (English speakers represent 60% of players). The rapid development of Catan's English-speaking online community underscores the vast and growing popularity of Settlers of Catan here in the United States.
There are currently over 25,000 real people (no artificial intelligence bots) playing Settlers of Catan against each other on the PlayCatan site. These real players are organized into online towns that correlate with physical location – so that players interact with people who live in their geographical region. Therefore, online communities can even organize offline, face-to-face meetings and contests for interested players.
PlayCatan.com is a great way for Catan fans and newcomers to experience the game and the community at no charge. Of course, Fans of Catan can also play electronically by purchasing Catan for Xbox 360 or the newly released Catan for iPhone.
PlayCatan: How to Join
PlayCatan.com is the online platform for the family of games created by the famous game designer Klaus Teuber. PlayCatan offers fans a variety of free, entertaining browser games that are ranked and provide an opportunity for players to win prizes. PlayCatan is also the portal for the Catan Online World, where fans can play Settlers of Catan for free.
After registering for an account and downloading the client, users can play all of the browser games, the basic Settlers of Catan board game, and the Catan Card Game as often as they like. Free members can also participate in monthly browser-game prize drawings, and receive in-game awards for achieving top positions in the basic Settlers of Catan game and the Catan Card Game.
By upgrading to a Premium Account for approximately $7.00 per month (or less, if signing up for a longer period), users become full citizens of the Catan Online World with complete access to all the games, including the metagame, the popular Settlers of Catan "Seafarers" and "Cities & Knights" expansions, the "Multicatan" game designed for and available only online, and several other games designed by Klaus Teuber.
Catan is currently offering 50 free 1-month Premium Accounts to reporters so they can experience the Catan Online World firsthand and share their impressions with fans. Contact JIMPLANE at catan.com for more details.
Experience the Camaraderie of the Catan Metagame
The Catan Online World exists within a realm known as the metagame, which encompasses all the aspects of playing within the Catan online community. In the metagame, each user is a citizen of a virtual town and plays games against other inhabitants of the same town, or anyone in the entire online world. Members can play at any time, and have the opportunity to compete in official, unofficial, worldwide, and local tournaments. The towns themselves compete against each other for rank and prizes, while the citizens elect mayors, build their own houses, improve their clothing, and contribute their resources to their town's success.
Two taverns are located in the heart of each online city. This is where users go to play games against live opponents, gain rankings, and compete for prizes. Free account holders "live" in the hostel and play the basic game and card game as often as they wish; premium members build houses, have access to all the online game expansions, and contribute to their town's resources and rankings.
New Release of Catan Online World (COW 3)
The latest update to the Catan Online World, or COW 3, which went online October 13, features a newly redesigned metagame that further enhances online gameplay for Catan players. A new riddle game offers daily riddles written by Klaus Teuber, the game's creator. Players now enjoy enhanced design elements, such as more detailed buildings and homes, multi-racial avatars, and recognizable characters from other electronic Catan games. In addition, game play has been revised to give newer cities a more equal footing when vying for prizes.
Other changes include the opportunity for players to trade resources with merchants in the Market Square, and the elimination of the robbers and arsonists who used to steal clothing and burn houses of citizens who did not pay enough resources to the city guard.
In addition, a Catan puzzle has been added to the collection of free browser games.
Follow Catan
Fans can keep up to date with the Catan team and Teuber family via their company blog, Catanism. For up-to-the-minute news, visit our Official Catan Twitter Page and our Facebook Fan Page.
###