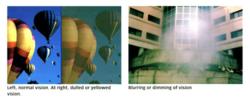 We offer the most technologically advanced lens implant options to reduce or eliminate the need for glasses.
Nashville, TN (PRWEB) January 28, 2012
Over time, glasses and contacts may no longer work to see clearly. Contacting an ophthalmologist should be the first step after experiencing vision changes or impairment. A thorough eye exam can determine the problem and what vision correction surgeries are recommended. Cataract surgery is one of the most frequently performed surgeries in the United States. Many people don't even recognize the early signs of cataracts, they just know they do not see well. Dr. Stewart Shofner at Shofner Vision Center debunks common myths about cataract surgery to ease those worried minds.
MYTH# 1: Cataract Surgery is Extremely Dangerous and Risky.
Cataract surgery is one of the safest and successful procedures that is covered by insurance. Dr. Shofner is exceptionally experienced in micro-incision, no-stitch, no-shot, no-patch cataract surgery, which allows for the quickest recovery and fast return to everyday activities.
MYTH# 2: Only People Over the Age of 50 Develop Cataracts.
Typically, patients begin having early cataract symptoms as early as 40. However, cataracts may also develop in those much younger than 40. Only a thorough eye exam will determine which vision correction surgery is most appropriate.
MYTH# 3: Insurance Doesn't Cover Cataract Surgery.
The US Government spends nearly $4 billion (Medicare/Medicaid) on this procedure each year. Most insurance plans pay for the procedure using standard lenses, subject to deductibles and co-pays. If a patient opts for a "premium" lens, insurance may cover the procedure, not the lens.
MYTH# 4: Cataracts Will Go Away by Using Eye Drops, Medicine or Vitamins.
Although some drops will refresh the eyes, surgery is the only proven treatment for cataracts.
MYTH# 5: Bladeless Cataract Surgery is Safer Than Traditional Methods.
Studies have not confirmed that so called "bladeless" surgery is safer. Traditional methods, such as micro-incision, are very safe. Most cataract procedures are performed with this quick and time-tested method that produce extremely good outcomes.
MYTH# 6: Only Premium Lenses Will Provide Immediate Vision Improvement.
"We offer the most technologically advanced lens implant options to reduce or eliminate the need for glasses," states Dr. Shofner. Premium Lenses ("Intraocular lens" or "Smart Lens") such as ReSTOR® or CrystaLens®, replace the old lens in an eye. These premium lenses can almost eliminate the need to wear glasses, both for reading and distance vision. However, many insurance plans do not cover premium lenses, which can cost $2,750 or more per eye. Standard lenses are budget friendly and can offer immediate vision improvement.
MYTH#7: Post Operative Recovery is Long.
Cataract surgery is an outpatient procedure and takes just minutes to perform. Most people notice an immediate improvement in their vision following surgery. People resume normal activities the day after surgery.
MYTH# 8: Stitches Are Required.
Incisions to remove cataracts are very small (2-3mm) and often allows for a "sutureless" wound closure. An intraocular lens is placed in the capsule of a person's natural lens.
MYTH# 9: You Still Need Glasses After Cataract Surgery.
With new technology, your dependence on glasses can be greatly reduced or nearly eliminated.
MYTH# 10: Lasers Are Used to Remove Cataracts.
Ultrasound energy is used to remove cataracts. An instrument called a phaco probe is used to remove the natural lens before being replaced with an artificial lens.
About Shofner Vision Center
Dr. Shofner in Nashville is an expert at cataract surgery and can help decide if a premium or standard lens is the most appropriate for you. Dr. Shofner has performed over 10,000 cataract surgeries and is known as Middle Tennessee's most trusted eye surgeon. As always, Shofner Vision Center provides patients with options to reduce or eliminate a patient's dependence on glasses or contacts and never pressures anyone to have surgery. Learn more about Cataract Vision Correction Surgery.
###