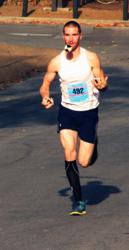 Joggling is a mind-body experience, a moving meditation, and it's a joyful way to shed light on some important issues.
-Bob Evans, World Record Joggler
Nashville, Tennessee (PRWEB) November 03, 2011
On Saturday, October 29th, juggler Bob Evans ran 3.1 miles in 16 minutes and 51 seconds to set a world record for the fastest 5K while juggling three objects. Evans accomplished his record-breaking feat at the Susan G. Komen Race for the Cure in Nashville, Tennessee, to raise awareness for cancer prevention and survivorship.
Evans beat the previous record time of 16:55, which stood unbroken for over two decades.
The growing sport of juggling while running is known as joggling. Competitors hold records in several categories, from 100 meters to ultra marathons. The activity attracts both hobbyists and serious athletes.
"Joggling is a mind-body experience, a moving meditation," said Evans. "It's a fun experience for both jogglers and spectators, and it's a joyful way to shed light on some important issues."
Evans placed first over all runners at this year's Race for the Cure in Nashville as he broke the world record set by Kirk Swenson in 1986. Evans' wife Trish finished the race first among women-also while juggling.
The couple is part of Team Catch It Early, a nationwide initiative that brings jogglers to cancer awareness races to help attract attention and add energy to the events. A total of fourteen jugglers completed the 5K in Nashville, drawing smiles from the runners that they passed along the course.
"This year's Race for the Cure was the largest one we've held in Nashville," said Susan G. Komen Executive Director Patty Harman. "It's such a fun race for so many people. With runners like the jogglers participating, it really adds to the excitement."
Charlotte, Miami, Boston, Chicago, and New York also featured jogglers from Team Catch It Early in Race for the Cure events this Fall.
"We are honored to have Bob break the world record as part of our team," said Dr. Jacob Weiss, director of Playing By Air Productions, the circus entertainment company that leads Team Catch It Early and related arts in health care programs. "The athletic achievement combined with the juggling draws attention to important community resources and the message of catching cancer early."
About Catch It Early
Catch It Early is an initiative of Playing By Air Productions to promote cancer awareness, prevention, and support through juggling and circus arts. Programs include Team Catch It Early (juggling and running), public awareness videos, event entertainment, and workshops for cancer support groups. To learn more, visit http://catchitearly.org and http://playingbyair.com.
###