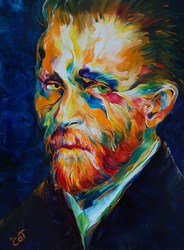 Cat Clausen's, 7-Billion Soul Mates - We Are All Connected, is hanging in our house where we enjoy it daily.
Chicago, IL (PRWEB) July 31, 2009
Renowned painter Cathee A. "Cat" Clausen announced today the launch of a new website that will host and present her art and work.
The new website launch also coincides with the announcement of Cat's new web address. Ms. Clausen's work can now be visited at CatClausen.com.
The new website, which contains - among other things - a sample of Cat's newest pieces, has been completely redesigned, to improve visitors' navigation, art image quality, and communication with Cat's growing fan base.
"Much of my energy and inspiration comes from the people I meet, from my friends, collectors, and sustainers," said Ms. Clausen at her Dwight, Illinois studio. "I wanted to make sure that the new website reflected the importance of these relationships, by offering visitors the opportunity to not only view my art from an up-close perspective, but also to keep up with my work and daily inspiration through tools like my Blog and updated pages describing and showing my new creations."
The website design offers a virtual gallery, to allow visitors to browse through different collections, as casually or as carefully as they want. Visitors will be able to peruse all the paintings in one of the galleries, or pull up a high-definition version of every image, to study its details and appreciate each deliberate brush stroke. Visitors will also be able to learn more about the pieces on display, as Cat guides them through the background and inspiration of some of her most sought-after creations. Cat's art is also available for sale through the website, in the form of high-quality Giclee prints.
An area dedicated to her closest friends and fans is accessible by password only, and contains downloadable high-definition images, desktop backgrounds, and even screensavers featuring Cat's work.
Cat's new website is the first in many activities that will link the artist to her fan base, over the next few months.
"As demand for my paintings and portraits grew, over the past few years, so did the desire of my collectors and fans to keep up with my work and my artistic pursuits. I want to make sure that the line of communication remains open, that the inspiration continues to flow, and that everyone has an opportunity to "visit" my studio, albeit virtually.", commented Cat.
Visitors will also be able to view Cat at work by downloading clips of her studio activity, connect with Cat online, and view early releases of Cat's work.
Gary Zukav, the celebrated writer, regular guest of the Oprah Show and author of Seat of the Soul, #1 best-seller in the New York Times, USA Today, Los Angeles Times, Publishers Weekly and others, is among the notable collectors of Cat's art. "Cat Clausen's, 7-Billion Soul Mates - We Are All Connected, is hanging in our house where we enjoy it daily.", said Mr. Zukav.
The artist - whose unique style is considered an artistic movement in the making, and whose prolific work has graced museum walls, magazine covers, and the homes of renowned collectors - hopes that that this new approach will allow her to connect more personally with her collectors and admirers, to share her passion with more and more people, and to foster the "Love World Wide" that has become synonymous with her work.
About Cat Clausen:
Born in California but a long-time resident of Illinois, Cathee A. "Cat" Clausen is credited with creating the "Pure Power" style, a painting technique that blends accurate details and passionate, instinctive brushstrokes. The result is a powerful and colorful palette that captures the intimacy of a moment and of a facial look without ever lingering on the detail for too long. Cat's work has been defined as groundbreaking, and has been exhibited locally and nationally. Her paintings, spanning from landscapes, animals, bodies, and portraits, which were once sold to the members of her small community, are now sought after by collectors nationally and internationally. She is a particularly respected portraitist. For additional information, visit Cat's website.
# # #