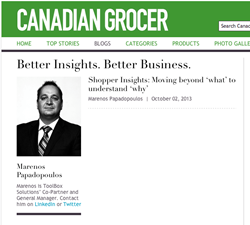 For years we have been an industry leader, providing hundreds of clients with better insights on their data. We feel it is time to share some of this knowledge with the retail industry
Toronto, ON; Chicago, IL (PRWEB) October 07, 2013
Category management specialist, ToolBox Solutions, announced the launch of a new blog named Better Insights. Better Business. The company's Co-Founder and partner, Marenos Papadopoulos, will be the author of the blog. This would be the second blog ToolBox Solutions is running, in addition to the 'Category Management Blog' it started last year.
"Better Insights. Better Business." blog will be published once a month on the Canadian Grocer website. It is designed to be a resource for the CPG and retail community on a range of Category Management related topics including Loyalty Insights, Merchandising, Planograms, Analytics, and much more.
"For years we have been an industry leader, providing hundreds of clients with better insights on their data. We feel it is time to share some of this knowledge with the retail industry," said Marenos Papadopoulos. "Our thought leadership is driven by our broad experience and success in multiple industries, as well as, by the feedback we get from our great clients," he added.
ToolBox Solutions® is a Global Premium Full-Service Category Management provider to leading Consumer Packaged Goods Companies, Retailers and Brokers. Established in the late 1990's, ToolBox Solutions has a proven track record in delivering customized and result driven solutions for the Consumer Packaged Goods Industry.
# # #
If you'd like more information about this topic, or to schedule an interview with Marenos Papadopoulos, please call Amit Shauli at 1-888-550-8665 X 7048 or email him at ashauli(at)toolboxsolutions(dot)com.