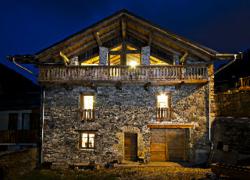 London, UK (PRWEB) July 24, 2012
Chalet skiing holidays are a very British invention - not quite a hotel, yet also nothing like the cramped self-catering apartments historically so popular with the French. Having everything laid-on, very English Afternoon Tea (and cakes), and the opportunity to mingle with fellow guests around the dinner table has meant that catered ski chalets have proven to be a real winner for the British skier.
Excellent examples of the genre are the two latest additions to the Internet-Cottages Catered Ski Chalets section - Chalet Le Passeu and Chalet Algonquin in the quaint village of Peisey-Nancroix in the Les Arcs ski area. As well as being beautiful old buildings which have been renovated to a luxury standard, under the management of the team at local operator SnowHQ, both chalets provide all the accoutrements of the typical chalet holiday - gourmet food, communal eating, games consoles, and of course, afternoon tea.
The smaller of the two chalets, Chalet Algonquin, has five large en-suite bedrooms to accommodate up to 14 people. Combining traditional Alpine features such as exposed stonework and wooden beams with contemporary furnishings, it really is a very special ski chalet. More details can be found here: Catered Chalets Les Arcs
Almost next door, Chalet Le Passeu is slightly larger, with six ensuite rooms to accommodate up to 16 people. It has a large open plan lounge / dining area with a cosy wood burning stove, plenty of comfortable seating and floor-to-ceiling windows leading to a balcony with stunning views across the mountains. For more details, visit Chalet Le Passeu Les Arcs
Of course the accommodation is only one part of a catered chalet holiday, equally important is the food. The team at SnowHQ take considerable pride in the meals they provide - serving gourmet food by Professional chefs, using largely local produce.
Head Chef André has over 15 years experience of working in some of the best restaurants and five star hotels on both sides of the Atlantic, as well as on private yachts and estates. He has travelled France extensively, and with strong knowledge of regional cuisine enjoys mixing these influences with classic dishes, resulting in stylish, contemporary food.
Dates for both chalets for the 2012/2013 Season start on 15th December 2012 and run through until 27th April 2013, with prices ranging from £345 - £795 per person / week. Bookings can be made directly with SnowHQ via their website.
For more information about this Press Release or about Internet-Cottages, please contact Ian Locke using the contact details shown.