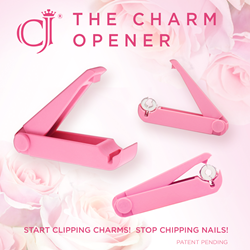 The Little Pink Wonder that Saves Time, Frustration and Fingernails!
Los Angeles, Calif. (PRWEB) December 02, 2014
The growing trend of charm bracelets across North America has created an industry need for a brand new tool, The Charm Opener. The infamous difficulty of handling charm bracelets, necklaces and locked beads is now over thanks to this easy-to-use, portable, and effective tool created by jewelry designers, Cathy Barouch and Lara Korhammer.
"We were tired of experiencing too many frustrating moments trying to put charm bracelets off customers and ourselves," says Barouch. "We've heard from fellow retailers that they would receive customer complaints about how difficult it is to open charm bracelets, necklaces and locked beads. So we came up with the perfect solution."
Though charm bracelets have been around for years, they've recently reemerged as a growing trend amongst women in North America. The beauty of charm bracelets and necklaces is the ability to add beads frequently to commemorate all of life's best occasions, and the easier that is to do, the better.
The Charm Opener (patent pending) works on all jewelry brands and retails for $25. It is available for purchase across North America to retailers and the general public on http://www.caterinajewelry.com. To see how The Charm Opener works, visit https://www.youtube.com/watch?v=RhYLcaU-7GU.
Media Contact:
Shnane Liem
shnane(at)vivesocialmarketing(dot)com
778-866-0084
About Caterina Jewelry
Cathy Barouch and Lara Korhammer are partners of Caterina Jewelry, LLC., featuring pre-assembled charm bracelets, necklaces and earrings fashioned from the highest quality material including .925 sterling silver, 14K plated gold, and vibrant crystals.
Ageless and timeless, the Caterina Jewelry line caters to fun-loving, energetic women with an interest in style, elegance and quality. More information can be found at http://www.caterinajewelry.com.