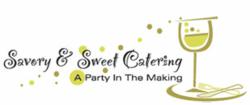 I have had Savory and Sweet's food at business events on several occasions. I've enjoyed all of them
Sunnyvale, CA (PRWEB) February 16, 2012
Savory and Sweet Catering, offering catering menus and BBQ catering throughout the Bay Area, introduces the Mardi Gras Small Bites menu for those with the hankering to get a little wild. Taste the excitement of big brass bands and street parties with Savory and Sweet's newest, limited-time menu.
The Mardi Gras Small Bites catering menu includes smoked pork mini roll sandwiches and Creole wings, both $2.75 per person; andouille sausage and onions at $1.95 per person, .50 cents extra for a baguette; Cajun spinach dip with sour dough cubes for $1.95 per person; Louisiana deviled crab cake with a lemony aioli at $3.95 per person; International cheese display with assorted crackers and dried fruit at $6.95 per person; spicy crab fondue with sliced baguettes for $4.95 per person; New Orleans almond and chocolate florentine cookies at $1.25 each; Bourbon pecan pies, $15.00 each; and kings cake for $22.50 each.
"I have had Savory and Sweet's food at business events on several occasions. I've enjoyed all of them. It's one thing for someone to know how to cook, but it's another thing to know how to run a successful catering business. I was really impressed with Leanne's professionalism. The food was great; the price was very competitive. On top of that, her business is green certified! I love supporting local and green businesses. I highly recommend hiring Savory and Sweet for your events!" Katy K. of San Jose said on Yelp.com.
For more information about the Mardi Gras Small Bites menu or any of Savory and Sweet Catering's products or services, call 408-598-3197 or view the catering service on the web at http://www.savoryandsweet.com.
About Savory and Sweet Catering
Enjoy delicious food and exceptional service from Savory and Sweet Catering. Savory and Sweet Catering, founded in 1993, provides outstanding catering services to the San Francisco Bay Area. They are a certified green business and take great pride in delivering fantastic food and service while remaining environmentally sustainable. They work with their clients to develop a catering menu that features locally grown, organic ingredients wherever possible. Savory and Sweet Catering offers a wide range of catering options, including everything from summertime BBQ catering to formal wedding catering. As a full-service catering company, they can provide everything you need to make your next event a success!
###