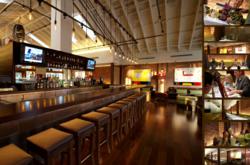 With our ever growing customer base, we felt the need to expand and make our offerings available to a wider range of Bay Area residents and local businesses
San Francisco, CA (PRWEB) October 04, 2011
The Bay Area's Pampas offers a modern churrascaria experience in the heart of downtown. A dining tradition of nomadic Brazilian cowboys more than two hundred years ago, the original methods and experience has been refined to its modern incarnation. Enjoy perfectly cooked meat delivered and carved tableside. Restaurant catering is also available for parties and private events.
"The Palo Alto and greater Bay Area community has shown great enthusiasm for our Brazilian restaurant and cuisine, and we feel very fortunate to have been received so well," said Moritz Drost of Pampas Restaurant. "With our ever growing customer base, we felt the need to expand and make our offerings available to a wider range of Bay Area residents and local businesses."
Best steakhouse, Pampas now offers its much lauded authentic Brazilian cuisine to residents throughout the Bay Area. Whether planning for a wedding, holiday party, organizing a corporate event or simply arranging a get-together with friends and family, Pampas now offers a genuine rodizio and churrascaria dining experience wherever the event may be.
Pampas' state-of-the-art portable, rodizio grill was made to order and imported directly from Brazil. A rodizio is a traditional Brazilian rotisserie that cooks meats to perfection using a top heat source and slowly cooking the rotating meat.
Pampas is offering 13 rodizio grill options, including their most popular selections of Picanha (top sirloin), Medalhão (tenderloin filet tips), and Abacaxi (grilled pineapple). Pampas has flexible catering options, ranging from simple delivery service to fully-staffed catering services including coordinators, chefs, wait-staff and bartenders.
Pampas catering offers more than just food, they have full bar and wine services available, including the full range of their house specialty cocktails such as the Classic Caipirinha (Lebloncachaca, simple sugar, muddled limes) or the Cosmo do Diabo (Mazama infused pepper vodka, pineapple juice, and passion fruit).
For more information on Pampas Restaurant and their services, call 650-319-8041 or visit http://www.pampaspaloalto.com regarding their catering service. Pampas Restaurant is located at 529 Alma St., Palo Alto, CA 94301.
About Pampas Restaurant
Pampas Brazilian restaurant features the unique Brazilian culinary traditions of gauchos (Brazilian cowboy). Featuring perfectly cooked meats and more than 40 hot and cold items at their side bar, Pampas delivers the churrasco to residents of the Bay Area.
###