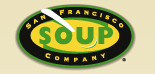 We offer breakfast that can be delivered as early as 7:30 a.m.," said Gary Nist, Catering Sales Manager. "We can also accommodate your evening and weekend catering needs
San Francisco, CA (PRWEB) September 23, 2011
Catering Customers of San Francisco Soup Company have an opportunity to try the new Mini Sandwich Platter with Salad Bowl and Cookies available as the September Special this month. The platter offers a choice of 20 mini sandwiches served on one of their nine grain rolls, one of their delicious salad bowls and 10 fresh baked cookies.
San Francisco Soup Company is a unique catering service in the Bay Area. They use only the freshest meats and produce in their signature soups, custom salads and sandwiches.
Some of the Signature soups available are Grandma Mary's Chicken Soup, an old-fashioned chicken soup full of chicken, noodles, and flavorful vegetables in a tasty broth; the hearty Organic Smoky Split Pea Soup with a hint of smoked chili peppers; and the smooth and creamy Organic Tomato Bisque.
The Egg Salad Sandwich at San Francisco Soup Company is made with their own secret recipe; the satisfying Roasted Turkey Sandwich is served with avocado and jack cheese; and, the Veagan Hummus Wrap is distinctively flavored with roasted red peppers, kalamata olives, romaine and cucumber on lavash.
San Franciscans are also excited about the new Catered Breakfast Menu offered at San Francisco Company that includes Cage Free Frittata on a Thomas' English Muffin available with cheese, and ham or bacon; platters of fresh fruit, pastries, muffins, and bagels; and fresh squeezed orange juice, by the serving or by the gallon.
"We offer breakfast that can be delivered as early as 7:30 a.m.," said Gary Nist, Catering Sales Manager. "We can also accommodate your evening and weekend food catering needs. In order to accommodate our clients and their ever-changing schedules, we have a 2-hour ordering window time for our clients' convenience."
The San Francisco Soup Company is located at 221 Montgomery Street. For more information, call them at 415-593-7687; or visit them at http://www.sfsoupcocatering.com. They are open Monday through Friday, 7:00 a.m. to 4:00 p.m.
San Francisco Soup Co. has been the Bay Area's soup leader for the past 12 years. They offer an incredible catering menu of delicious hand-crafted gourmet soups, salads, and sandwiches. Whether you prefer spicy or sweet, vegetarian or meat, the San Francisco Soup Company has the perfect meal for you.
###