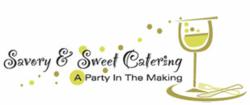 Our food first and quality approach has paid off, and now we also credit our excellent staff for providing superior service as being the key to our long standing success
Sunnyvale, CA (PRWEB) November 01, 2011
Leanne Pomellitto, managing partner at the Bay Area catering services company, Savory and Sweet Catering, will join the culinary program of the Art Institute of California in Sunnyvale to teach an introduction to baking and pastry this fall semester.
Leanne is the President and CEO of Savory and Sweet Catering. As a managing partner, she is responsible for a variety of aspects of the business including kitchen purchasing and management, cooking, baking, event and catering management, operations, marketing and sales.
"Our food first and quality approach has paid off, and now we also credit our excellent staff for providing superior service as being the key to our long standing success," says Leanne.
She is an award-winning pastry chef. Most notably, she has been awarded both Gold and Bronze medals at the annual Sugars Arts Festival as featured on the Food Network.
For more information on Savory and Sweet Catering, call (408) 598-3197 or visit them online at http://www.savoryandsweet.com. Savory and Sweet Catering is located at 148 W. Herdy Avenue Sunnyvale, CA 94086.
About Savory and Sweet Catering
Savory and Sweet Catering, founded in 1993, provides outstanding catering services to the San Francisco Bay Area. They are a Certified Green Business and take great pride in delivering fantastic food and service while remaining environmentally sustainable. They work with their clients to develop a catering menu that features locally grown organic ingredients wherever possible. Savory and Sweet Catering offers a wide range of catering options, including everything from summertime barbecue catering to formal wedding catering. As a full service catering company, they can provide everything their clients need to make an event a success.
###