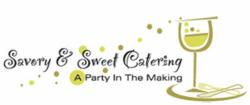 We applaud these organizations for sharing their sustainability initiatives with us and look forward to learning about their exemplary achievements
Sunnyvale, CA (PRWEB) December 23, 2011
Bay Area catering service, Savory and Sweet Catering, a full-service catering company, has been nominated for Acterra's 2012 Business Environmental Awards, which will be announced in March 2012. The nominees are evaluated on the basis of leadership, significant environmental benefits, potential model for the business community and demonstrated program commitment.
"We applaud these organizations for sharing their sustainability initiatives with us and look forward to learning about their exemplary achievements." said Acterra, the awards organizer and an environmental non-profit serving Silicon Valley.
In the coming months, the BEA judging committee will review the applications received for each category, namely Awards for Sustainability, Environmental Innovation, Environmental Project and Sustainable Built Environment. In any given category, the judging committee may elect to give multiple awards based on company size. All finalists will be announced on Feb. 1, 2012, and the 2012 awardees will be announced on March 19, 2012.
Savory and Sweet Catering has been a green-certified caterer for six years, a 2010 CA WRAP Award Winner, a 2010 Cool California Award of Excellence Winner and a Member of the Green Business Council. The company continues its goals of conserving resources, being energy efficient and creating a healthy environment through recycling. The company is also the first U.S. business to purchase a Korean composting tub, which turns food scraps into a soil every 24 hours.
With more than 10 years in the catering industry, Savory and Sweet Catering integrates its green and environmental movement by ensuring every aspect of its catering events are edible, re-usable, compostable or recyclable. The company manages to be innovative while staying green, which makes Savory and Sweet the perfect role model to all other food and catering businesses in the country.
For more information about Savory and Sweet Catering, call 408-598-3197, view the catering service on the web at http://www.savoryandsweet.com or visit 148 W. Herdy Ave., Sunnyvale, CA 94086.
About Savory and Sweet Catering
Enjoy delicious food and exceptional service from Savory and Sweet Catering. The Bay Area's Savory and Sweet Catering, founded in 1993, provides outstanding catering services to the San Francisco Bay Area. It is a certified green business that takes great pride in delivering fantastic food and service while remaining environmentally sustainable. It works with its clients to develop a catering menu that features locally grown, organic ingredients wherever possible. Savory and Sweet Catering offers a wide range of catering options, such as summertime BBQ catering and formal wedding catering. As a full-service catering company, it provides everything necessary to create successful events.
###