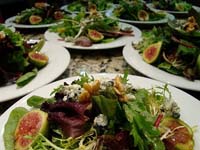 Plant-based and whole foods diets are important for anyone looking to maintain a healthy lifestyle
San Francisco, CA (Vocus/PRWEB) May 31, 2011
San Francisco's Sugar & Spice Catering announces the hiring of a new chef who specializes in vegetarian and vegan fare. The chef can offer personal assistance to customers hosting a dinner party at home or any other venue wanting vegetarian and vegan food on their menu and can also offer a personal meal delivery. This new service from Sugar & Spice Catering is available later this summer, in August and September.
"Plant-based and whole foods diets are important for anyone looking to maintain a healthy lifestyle," said Claudine Dagit of Sugar & Spice Catering. "Why not share your passion for healthy vegetarian food to friends who would otherwise be hesitant to try?"
With the help of Sugar & Spice's vegetarian chef, customers will be able to plan a delicious vegan meal for their parties and will be able to surprise their guests with the amazing taste of the food. The menu planning includes a five-course meal and wine pairing with dishes of local organic and seasonal produce. The menus can be customized to the customer's preferences.
Customers will receive a consultation and menu planning session with the vegetarian chef along with two free hours of event planning and decorating. Customers can now enjoy a dinner party in the comfort of their own home with the best-tasting and healthy foods prepared by Sugar & Spice Catering's vegetarian chef.
For more information about Sugar & Spice Catering's services, call them at (415) 240-4434or view them on the web at http://www.sugarandspicecater.com or visit their blogspot at http://sugarandspicecater.blogspot.com/.
About Sugar & Spice Catering
Sugar & Spice Catering, located in San Francisco, is a creative culinary and sustainable catering service that specializes in catering services, customized menus, vegetarian catering and meal delivery. Sugar & Spice Catering serves the best catering menu in the San Francisco Bay Area.
# # #