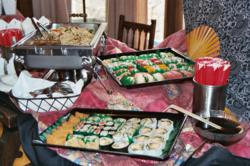 As a green company we go beyond compliance with environmentally-sound practices in the areas of energy efficiency, pollution prevention and giving our clients the ability to make choices in our service to help the environment
Sunnyvale, CA (Vocus/PRWEB) June 04, 2011
Savory & Sweet Catering, located in the Bay Area, was awarded a Certificate of Achievement from the City of Sunnyvale on April 26. The award was given as recognition for Savory & Sweet Catering's status as a certified green business, providing outstanding catering services while observing environmentally friendly practices.
"As a green company we go beyond compliance with environmentally-sound practices in the areas of energy efficiency, pollution prevention and giving our clients the ability to make choices in our service to help the environment," said Leanne Pomellitto of Sweet & Savory Catering.
Savory & Sweet Catering has been a green certified company for more than five years and, aside from receiving this award from Sunnyvale, it has recently been recertified by the county of Santa Clara. Savory & Sweet Catering encourages other companies and its clients to make choices to be greener for the conservation and protection of the environment.
For more information about Savory& Sweet Catering, contact them by phone at 408-598-3197 or visit them at http://www.savoryandsweet.com.
About Savory & Sweet Catering
Enjoy delicious food and exceptional service from Savory & Sweet Catering. Savory & Sweet Catering, founded in 1993, provides outstanding catering services to the San Francisco Bay Area. They are a Certified Green Business, and take great pride in delivering fantastic food and service while remaining environmentally sustainable. They work with their clients to develop a catering menu that features locally grown organic ingredients wherever possible. Savory & Sweet Catering offers a wide range of catering options, including everything from summertime barbecue catering to formal wedding catering. As a Full Service Catering Company, they can provide everything needed to make an event a success!
Business Name: Savory and Sweet Catering
###