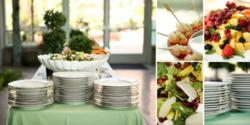 Orem, UT (PRWEB) December 11, 2012
Culinary Crafts recently hosted a wedding at the Red Butte Gardens. Catering for events and weddings has become an art that requires years of practice and experience to truly master. They have been catering in Salt Lake City for years, and have become a leader in the area. The recent event they catered was a chic and elegant Utah wedding in one of Salt Lake City's favorite spaces – The Orangerie at Red Butte Gardens. The soft palette of pewter, mint, and blush pink was understated and gorgeous, not to mention perfectly blended with the natural beauty of the space. The guests were greeted by butlers with an array of passed hors d'oeuvres like Roasted Corn Cakes with Goat Cheese and Honey, Parmigianino Stuffed Dates Wrapped in Prosciutto and Rock Shrimp with Wasabi Aioli and Thai Chili Sauce. The menu was truly delicious. Later, the guests dined on a Summer Buffet with Sesame Crusted Eggplant layered with Sautéed Vegetables served over a Barley Salad with Tomatoes, Scallions, Cucumber and Mint Lime Dressing and a Green Coconut Curry Sauce, Jack Daniels Puree of Yam with Buttered Pecans, Spinach and Romaine Salad with Goat Cheese, Dried Cranberries, Pears and Candied Walnuts with a Caramelized Onion Balsamic Vinaigrette, and Seared Asparagus with Lemon and Parmesan Curls.
Add the touches of sumptuous linens, divine peonies, and delicate macaroons which were in the wedding colors, natch, and you have a seriously beautiful event that guests will remember for a lifetime. Catering in Salt Lake City can be an exhausting task that requires not only delicious menus, but the ability to compliment the elements already in the event. As you can see in this wedding Culinary Crafts has outdone themselves.
Sometimes simple yet beautiful is the best way to make a big impact, and that was definitely the case at this wedding. With all of the weddings and events, catering in Salt Lake City has given Culinary Crafts the expertise and the know how to cater for any event.
See a gallery of Catering in Salt Lake City, and other locations throughout Utah, done by Culinary Crafts