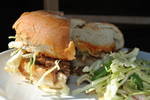 We're excited to introduce our eco-friendly bicycle delivery service.
San Francisco, CA (Vocus/PRWEB) May 26, 2011
What's better than a bittersweet chocolate chip cookie filled with macadamia nuts, ground coconut and topped with sea salt? Only that same cookie personally delivered by bicycle. Beginning Monday, May 23rd, L'acajou Bakery and Café will offer delivery service throughout SOMA and the Financial District in San Francisco from 11 am to 5 pm, 7 days a week.
"We're excited to introduce our eco-friendly bicycle delivery service," says owner Matthew Roder. "It's important for local businesses to support the green movement."
L'acajou Bakery and Café adds a bit of spice to the SOMA and Financial District lunch scene with popular specialty items such as their Pulled Moroccan Lamb Sandwich with cabbage slaw and their Endive Salad (made with arugula, peaches, almonds and a goat cheese crostini). These dishes are nicely complimented by their delicious espresso drinks or Rainforest Yerba Maté Lemonade. L'acajou also offers event catering in San Francisco for all occasions, whether it's a local event, corporate lunch or private party.
The San Francisco bakery café reminds food lovers that while bicycle delivery service is environmentally friendly and evocative of classic provincial France, it is also slightly more time consuming than fossil-fueled deliveries, so customers should allow 30 to 45 minutes for food to arrive.
There is a $10 minimum order for bicycle deliveries and a $2 charge for any delivery that totals less that $20.
For more information about L'acajou's bicycle delivery service or any of L'acajou's Catering Menu selections, call them at (415) 503-9696 or visit them on the web at http://www.lacajou.com.
About L'acajou Bakery and Cafe
Says Chef Matthew Roder, "Take it easy; it comes of itself: it's "L'acajou," (say, 'La-ca-jou.' No, um, 'Lah-cah-jou.' Yes! Well done). L'acajou Bakery and Café, established in June 2010, first came into being in 2009 at a commercial kitchen located in San Francisco's SOMA district, where Matthew hand-crafted and then delivered his baked goods to locally-owned cafes. Now firmly rooted in SOMA, L'acajou Bakery and Café continues to pique the interests and appetites of Bay Area residents and to supply other coffee houses and eateries in want of a little savory or a little sweet L'aca-lovin'. Matthew's culinary philosophy, nurtured at the California Culinary Academy, allows the flavors of organic and sustainably-produced ingredients to declare themselves, and brings them together with a sensibility shaped by his ever-present wanderlust and an array of international influences.
L'acajou specializes in catering services for all events in San Francisco, Daly City, San Bruno, Marin, Oakland and Berkeley.
###