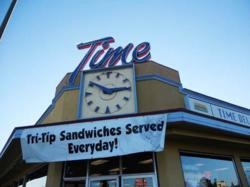 Our customers have wanted us to serve breakfast for years and now we are finally giving them the opportunity to enjoy a great morning meal without a long wait
San Jose, CA (Vocus/PRWEB) May 20, 2011
Time & Deli Catering, located in San Jose California, has been serving lunch to hungry clients on the go for years, and now they are serving breakfast. Items from their new breakfast menu are available from 6:30 am to 11 am on Mondays through Fridays, from 7 am to 1 pm on Saturdays, and 8 am to 3 pm on Sundays.
"Our customers have wanted us to serve breakfast for years and now we are finally giving them the opportunity to enjoy a great morning meal without a long wait," says owner Alan Lee.
The menu will include low fat and low calorie items such as oatmeal and egg whites, as well as morning indulgences such as chicken sausage. The venue has ample parking and seating inside the restaurant in order to accommodate large and small parties alike.
They have been so successful with their lunch crowd and corporate catering that they are inviting devotees to join them in the a.m. with some new delicious breakfast options. Breakfast is traditionally the most important meal of the day, so start it off right with a great meal, great atmosphere, and great service.
Time Deli & Catering is perfect for the customer who is on the go and is looking for a quality breakfast without the wait. They are providing a great breakfast option in Silicon Valley for busy working people.
For more information about Time Deli & Caterings' barbeque Friday call them at (408) 512-2185, view them on the web at http://www.timedeli.com, or visit them at 349 South Bascom Avenue in San Jose.
About Time Deli
Time Deli is a catering San Jose delicatessen that specializes in traditional homemade deli fare, barbeque, private catering services, corporate catering, private events in San Jose.
###