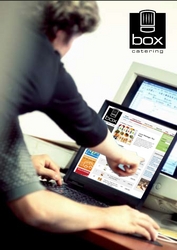 Wedding planners, personal assistants and anyone planning a corporate function, office meeting, wedding or home party are discovering the huge benefits of ordering over the internet at Box Catering.
Sydney, Australia (PRWEB) July 22, 2010
Catering in the Sydney area is now simplified with the new Box Catering e-commerce website, http://www.boxcatering.com.au. As the best party planners are testifying, with just a computer and the Box Catering website, they can organize all their catering and function needs in one place.
Cutting Edge Website
The new Box Catering e-commerce website contains large high resolution photos and descriptions of every item. All of the food, beverages and staff needed for an event are easy to browse, view and order online. With just four clicks, the order is complete. The Box Catering website took two years in the making using the talented services of veteran, award-winning web designers Amblique.
Delivery in Specially Designed Powered Delivery Box
Box Catering takes food safety and quality very seriously. When a customer orders hot food from Box Catering it is delivered in specially designed electric powdered and insulated delivery boxes. Any cold food is delivered in insulated cool boxes. These boxes will ensure that all the food remains in excellent condition until it is required and avoids the danger of the food spoiling.
Perfectly Suited Catering -- Food Stays Safe
The use of these boxes has the added benefit of allowing the customer to have the food delivered before it is needed. It takes away the stress of needing to be accurate with timing during a function, so if any meeting goes over time, the meals will still be perfect. The customer times the delivery before any of the guests even arrive as the meals can be kept in good condition for a couple of hours if required. The delivery boxes are similar to those used by hospitals and airlines.
Box Catering Supplies Organized Meal Packages
Simplicity is the theme - there is a huge choice of organized meal packages so that customers can select the package that suits them specifically, such as lunch business meetings, 21st parties, after work nibbles, there are 25 different packages to suit.
Work to a Budget
All customers are able to design their catering to any budget. There are available real time costings immediately, online as you select items, with no hidden charges.
Immediate Tax Invoices
When the order is complete the customer will receive a tax invoice immediately, no emails, no waiting.
Previous Order History
In all unique accounts, a history of all previous catering orders can be stored. Customers don't have to remember all the catering they ordered last time, because when they log back in all their details and a history of all their previous orders are at their fingertips ready for reordering.
Contact Us 24/7
The experienced Box Catering staff is ready to help. Simply phone or email a customer services manager directly to receive timely and knowledgeable information. If customers require a last minute order, please call Box Catering. They will usually accommodate the request.
Healthy food -- A Box Catering Specialty
Box catering has included a whole section in its order menu devoted to healthy food. Box Catering knows how important a healthy lifestyle is and that eating a light refreshing meal is far more productive during a business meeting or function. So they have assembled a range of healthy and light meals to allow all staff to re-energize and get going again.
No Fuss -- Food is Ready When the Customer Is
Box Catering is designed to make people socialize. The menu has an emphasis on finger food and meals served in noodle boxes with forks. This will encourage mingling whilst eating and eliminates the need to hire tables, chairs, crockery and cutlery. Whether the customer requires a working lunch, a fine dining experience or a major corporate event, Box Catering can manage all of the details and make it a breeze.
The food is arranged on elegant presentation platters chosen for their clean lines and visual appeal. These straight-to-the- table platters will compliment the most prestigious boardroom.
Delivery to the Customer for Free
Box Catering offers free delivery for orders over $250 within the Sydney Metro area. Deliveries are available Monday to Saturday.
Box Catering has a Track Record which Speaks for Itself
Our highly experienced team has a track record of successfully managing catering services for a diverse range of clients, ranging from local government to conference centres where they offer a full in house operation.
Chef in a Box -- a Website that Tries to Help
There is a funky section on the Box Catering Website that gives the customer heaps of info and cool things, such as:

Video of Box Catering chefs preparing box food
Demo videos how to order
Introduction videos on Box Catering
Recipes Box Catering uses for catering
Healthy options for customers of Box Catering
General tax questions on catering
News in a Box -- General tips for organizing catering
Planning the perfect menu for an event can be tricky business. Try out these tips from our experts for a successful business breakfast, lunch, or afternoon gathering:
Always check with your employees and clients for any special dietary needs
Include a vegetarian option in your order to accommodate special diets and lifestyle needs
For long morning meetings, consider adding a morning snack for lasting energy
Complete boxed lunches enhance meeting productivity -- great for working lunches with tight schedules
Fresh fruit skewers for dessert provides a healthy, energizing and refreshing finish to a meal
Ensure there is plenty of water for proper hydration
About Box Catering
Box Catering is a group of dedicated chefs and caterers based in Sydney, who have each worked passionately in the Hospitality Industry for over 15 years. They have tailored a new concept in catering that offers a comprehensive, no fuss and highly convenient order and delivery service across Sydney. This is the same management team that has operated some of Sydney's most successful boutique hotel bistros over the past 10 years, enjoying success in the AHA's Best Bistro Awards category whilst always keeping an eagle eye on their customers' next needs and wants.
The people at Box Catering are there to help by delivering superior catering and hospitality.
Businesses can create the right impression at their next business meeting by choosing Box Catering, who will impress their fussiest clients and colleagues. Make them feel special by ordering quality catering, presented with style and delivered with care from Sydney's No.1 private and business caterer.
Need help with coming up with the perfect catering menu for an event? Call Greg at Box Catering at 9418 3170 for friendly advice and professional service. For more information, please visit http://www.boxcatering.com.au.
###