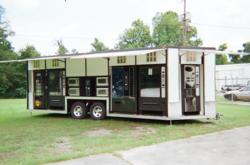 With the popularity of self service increasing in all sectors we anticipate VendaCarts as revolutionizing the catering industry
Mobile, AL (Vocus/PRWEB) February 16, 2011
Statistics show that around 100 million Americans use 7 million vending machines every day contributing to a $40 billion a year industry and VendaCarts leads the way in broadening this horizon.
VendaCarts mobile automated catering trailers combines a winning combination of convenience with self service machines and instant access to a diverse range of quality food and beverage products. This mobile automated retail phenomenon expands venue space, promotes products and increases profit margins while delivering to a captive consumer base in the large diverse catering marketplace. "With the popularity of self service increasing in all sectors we anticipate VendaCarts as revolutionizing the catering industry" say's Nolan.
"VendaCarts" is a custom designed mobile automated retail store equipped with up to nine built-in vending machines, a combination of service units such as microwaves, change makers
and condiment stands and technology such as ATM's, digital signage/LCD screens all with the
ability to add remote monitoring systems for easier business management. Once on location, the sides of the kiosk open creating awnings which exposes the ready to operate automated retail store.
VendaCarts introduces an automated opportunity for caterer's daily business activities to be accomplished by a single person. "Our unique mobile automated catering kiosk breaths new life, strong growth, and increased profitability into the catering marketplace" Nolan says."
About Carts Blanche, LLC
Carts Blanche, LLC, based in Mobile, Alabama, was founded in 1995 by Annette Antoine Nolan. Originally, Carts Blanche designed and manufactured wooden push carts and kiosks. "VendaCarts" is the latest product launched by Carts Blanche. VendaCarts is a revolutionary mobile automated trailer equipped with up to nine built-in automatic vending machines plus a combination of service units such as ATM's, digital signage boards, microwaves and condiment stands. Once on location, both sides of the trailer pneumatically raise creating awnings that expose the ready to operate vending business. The trailer design allows daily business activities to be accomplished by one person. VendaCarts combines the fast-turn, high-volume worlds of vending and concessions with mobile real estate allowing the owner to capitalize on new markets and new customers at a higher rate of return offering a fresh new approach to self service retailing. For more information please go to http://cartsblancheonline.com
Product Photos Download http://cartsblancheonline.com
###