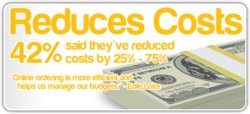 Our core mission is to improve the lives of caterers and foodservice operators.This survey tells us we're on the right path.
Rochester, NY (PRWEB) January 15, 2013
This month CaterTrax announced some of the findings from its recent semiannual survey. CaterTrax surveyed over 4,000 clients in an effort to gauge satisfaction and gather feedback. The survey focused on four key areas: market segment, client satisfaction, product feedback, and business impact.
"This is the first time we've conducted a survey of this scale," said Tom Donohoe, Vice President of Product Development. "Feedback and requests from our clients have always been drivers of our research and development plans. The data gathered in this survey is invaluable to us."
As the company compiles the data and plans for the future, one thing has become clear—the CaterTrax Platform is having a big impact on the lives of catering operators. The impact section of the survey was designed to give the company an idea of how its platform is affecting its clients' businesses. This section of the survey asked clients to estimate how much their CaterTrax system has improved efficiency and accuracy and increased sales. Clients also estimated how much time and money they are saving since implementing the software.
The results were overwhelmingly positive, as illustrated in the new infographic. The graphic captures a variety of stats including that 63% of respondents estimated they are 50 – 100% more efficient and 95% of respondents said the CaterTrax platform has improved employee morale.
"Our core mission is to improve the lives of caterers and foodservice operators," said Dan Welch, President. "This survey tells us we're on the right path. For our staff, it reinforces that the 'service' element of our software-as-a-service model can never be taken for granted. We're also looking at the product feedback, specific requests, and areas we may need to work on to do an even better job of serving our clients."
About CaterTrax
CaterTrax is an industry-leading SaaS company specializing in foodservice management software. The company was started with a core mission: to improve the lives of foodservice professionals. Created by caterers for caterers, the CaterTrax Platform was born out of years of industry experience. The software was initially developed to run the family catering business more efficiently. Since its formal launch in 2000, thousands of sites have implemented CaterTrax solutions in a variety of industries across North America.
CaterTrax allows its clients to implement custom solutions by offering a suite of highly configurable modules that seamlessly integrate together. The platform helps users promote, grow, manage, and sustain their businesses by streamlining back of the house operations and driving more business to the front. Regardless of market segment, in 2011 clients on average had a 15% growth in sales, revenue, number of orders, and order size after implementing a CaterTrax solution.