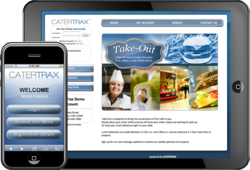 Partnering with Mercury® eliminates or reduces many of the set-up costs and fees associated with accepting online payments; and we're passing along the savings to our clients
Rochester, NY (PRWEB) November 07, 2012
Today CaterTrax officially released TRAX Payment Solutions powered by Mercury®. The partnership with Mercury®, the leading integrated credit card payment processing company in the U.S. and Canada, has allowed the company to offer a simple and complete solution and to be very competitive and aggressive with the pricing model. TRAX Payment offers a fully integrated payment processing platform as a standard option for all web-based and mobile ordering modules.
"Partnering with Mercury® eliminates or reduces many of the set-up costs and fees associated with accepting online payments; and we're passing along the savings to our clients," said Tom Donohoe, Vice President of Product Development. "Streamlining processing and reducing costs aligns with our goal to improve the lives of caterers and foodservice operators."
CaterTrax recognized that payment card processing fees can be a significant burden to operators dealing with slim margins. TRAX Payment gives clients a single point of control for tracking customer transactions and will help operators track down refunds, reconcile bookkeeping, and account for returns. The new solution also removes multiple layers of merchant application forms and statements.
Additional value-add comes in the form of streamlined support. TRAX Payment enables direct customer service and support, eliminating another layer in the series of transactions from a consumer's credit card to the merchant's bank account.
TRAX Payment Solutions aligns two industry-leading companies to provide a best-of-breed solution for caterers and foodservice operators who process credit cards. "We're very excited about the new partnership with CaterTrax," said Baird Kleinsmith, Mercury's Director of Partnership Development. "They have a strong reputation as the industry leader in their market segment. Our joint solution will provide a new option for cost-effective, PCI-compliant, integrated payment processing for the growing CaterTrax user base."
About CaterTrax
CaterTrax is an industry-leading SaaS company specializing in foodservice management software. The company was started with a core mission: to improve the lives of foodservice professionals. Created by caterers for caterers, the CaterTrax Platform was born out of years of industry experience. The software was initially developed to run the family catering business more efficiently. Since its formal launch in 2000, thousands of sites have implemented CaterTrax solutions in a variety of industries across North America.
CaterTrax allows its clients to implement custom solutions by offering a suite of highly configurable modules that seamlessly integrate together. The platform helps users promote, grow, manage, and sustain their businesses by streamlining back of the house operations and driving more business to the front. Regardless of market segment, in 2011 clients on average had a 15% growth in sales, revenue, number of orders, and order size after implementing a CaterTrax solution.
About Mercury
Mercury (formerly Mercury Payment Systems) is one of the fastest-growing payment processing companies in North America. Mercury is a trusted, award-winning channel partner to over 500 point-of-sale (POS) Independent Software Vendors and 2,500 POS Value Added Resellers, delivering secure and reliable integrated payments and visionary technology leadership to the industry. Mercury is pioneering the "Social POS," empowering its merchants to identify, acquire and retain customers through unique engagement and closed-loop measurement using Mercury's patent-pending SaaS mobile loyalty platform.