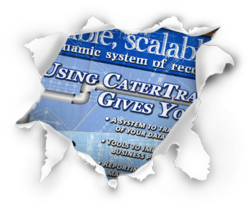 Our platform promotes efficiency. It helps caterers put scalable, repeatable processes in place.
Rochester, NY (PRWEB) January 29, 2013
The Scale infographic illustrates how foodservice operators can use the CaterTrax Platform to expand their businesses and manage multiple locations more efficiently, driving greater consistency across their growing customer base. The new graphic takes up where Prosper left off with Ri₵hes Café and Catering. Now that the café is prospering, the operator is ready to think about growth, using the enterprise management services to push content and pull data with one powerful system.
This is the fifth infographic in the CaterTrax Effect series, the company's interpretation of a maturity model. This latest graphic follows Chaos (the starting point), Control, Track, and Prosper. The series, executed in an engaging graphic format, has illustrated how foodservice operators can use the CaterTrax Platform to streamline processes to increase accuracy, reduce costs, and increase profits.
"Our platform promotes efficiency," said CEO and Co-Founder Rich Rund. "It helps caterers put scalable, repeatable processes in place. Operators who are interested in adding locations can then leverage the data in their system to do so."
CaterTrax clients agree that the platform increases efficiency, saving them time and money. These gains give them the flexibility to use the reporting and forecasting tools to plan for growth. Users can analyze the data in their system to make informed business decisions about opening new facilities and exploring new markets. As operators expand, the platform offers enterprise management solutions for managing multiple locations.
"Whether it's a single-unit operator adding new locations or a multi-unit operator already managing hundreds, our Enterprise Management Solutions make managing multiple locations easy," said Dan Welch, Co-founder and President. "The powerful reporting tools allow administrators to pull data from some or all of their sites from one system."
CaterTrax Enterprise Management Solutions help operators overcome common challenges, such as fragmented reporting, varied menus and pricing, and inconsistent branding. The roll-up reporting tools provide aggregated data directly from site-level CaterTrax systems for accurate reporting across the enterprise. The content publishing services coordinate the digital content distribution process, ensuring information is accurate across all sites.
Scale is the final phase of The CaterTrax Effect model, a series that demonstrates how caterers can move out of chaos into prosperity and growth over time. As the company wraps up its popular series, it has begun working on interactive projects that incorporate the model.
About CaterTrax
CaterTrax is an industry-leading SaaS company specializing in foodservice management software. The company was started with a core mission: to improve the lives of foodservice professionals. Created by caterers for caterers, the CaterTrax Platform was born out of years of industry experience. The software was initially developed to run the family catering business more efficiently. Since its formal launch in 2000, thousands of sites have implemented CaterTrax solutions in a variety of industries across North America.
CaterTrax allows its clients to implement custom solutions by offering a suite of highly configurable modules that seamlessly integrate together. The platform helps users promote, grow, manage, and sustain their businesses by streamlining back of the house operations and driving more business to the front. Regardless of market segment, in CY 2011, clients on average had a 15% growth in sales revenue, number of orders, and order size after implementing a CaterTrax solution.