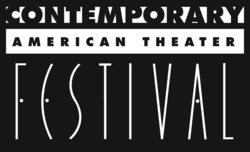 My eyes are focused on our 2010 Festival through which our audience will witness the collision of stories, styles and voices that will lead us to a better understanding of ourselves as we attempt to navigate our future.
Shepherdstown, WV (Vocus) March 10, 2010
The Contemporary American Theater Festival (CATF) at Shepherd University has announced the lineup for their 20th Season, which includes two world premieres. "Being in our 20th year, it is tempting to look back at our history, but this is not who we are," said Ed Herendeen, CATF Founder and Producing Director. "Theater people are always looking forward. My eyes are focused on our 2010 Festival through which our audience will witness the collision of stories, styles and voices that will lead us to a better understanding of ourselves as we attempt to navigate our future."
The 2010 CATF Season, running July 9 through August 1, will feature the following plays in rotating repertory:

The Eelwax Jesus 3-D Pop Music Show, a world premiere by Max Baker and Lee Sellars. Enter a socially isolated Group Home where the hapless residents are fed a daily dose of Eelwax Jesus hosted by the charismatic Mr. Shine. But this Nationally-Controlled Broadcast Show may not be enough to protect them from an outside world plagued with Superbugs, Human Cloning Experiments, Cameras in the Sky and a suspiciously miserable old man who lives down the hall. This CATF World Premiere combines original toe-tapping pop songs with offbeat characters and a variety of kitsch imagery. Max Baker and Lee Sellars' Alternative Musical event presents a wryly skewed vision of our very near future.
Inana by Michael Lowe. On the eve of the US invasion of Baghdad, one man, an Iraqi museum curator, plots to save the statue of Inana, Goddess of War, from destruction by the invaders. Fleeing to London with his young bride, he makes a life-altering deal to ensure the statue's preservation. Michele Lowe opens a window of hope and healing with her poignant love story amidst a background of international, and personal, intrigue.
Lidless, a first production by Frances Ya-Chu Cowhig. Fifteen years after being released from Guantanamo Bay, Bashir walks into the shop of Alice, his former US interrogator. He's tracked Alice down and wants her to know the emotional and spiritual pain she inflicted upon him. With her past brought to light, how does she explain her actions to her teenage daughter? Can Alice protect her from the truth? Frances Ya-Chu Cowhig delivers an extraordinary portrayal of one woman's experience with the "War on Terror" and her struggle to find peace and healing
Breadcrumbs, a world premiere by Jennifer Haley. Alida is a reclusive writer of fiction slowly losing her memories. Reluctantly, she has come to depend upon a young caregiver to complete her final book - an autobiography. Delving into the dark woods of her past, the two women wrestle over the nature of language, loneliness, and the essential self. In this CATF World Premiere, Jennifer Haley has created a poetic play resonating with wry humor, compassion and empathy.
White People by J.T. Rogers. Three ordinary Americans spotlighted during extraordinary moments in their lives. Martin, a high powered attorney in St. Louis, Missouri; Mara Lynn, a housewife in Fayetteville, North Carolina; and Alan, a young professor in New York City, wrestle with guilt, prejudice, and the price they and their children must pay for their actions. J.T. Rogers returns to CATF following 2008's highly acclaimed The Overwhelming with White People, a candid, brutally honest exploration of race and language in our culture.
The CATF Box Office will open March 22 with pre-season hours Monday through Friday from noon until 5:00pm, with the online box office open 24 hours a day 7 days a week. Single ticket prices begin at $25 with subscriber CATCards available to see four or all five plays at discounted prices. For information on Group and Organizational discounts available on groups of 10 or more, please call 304-876-3304.
The Contemporary American Theater Festival prides itself on producing and developing new American theater. Since 1991, CATF has produced 80 new plays, including 30 world premieres. Five plays, five playwrights, five unique theatrical experiences at the Contemporary American Theater Festival. For more information, please visit http://www.catf.org or call 304-876-3473 or 800-999-CATF (2283) or follow CATF on twitter at http://www.twitter.com/thinktheater.
Media Contact:
Sandy Sponaugle, Publicist
O: 304-876-8321
C: 304-702-0350
###