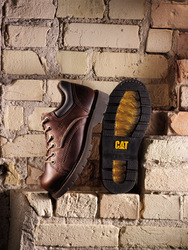 We couldn't be happier with the relationship with Richard Childress Racing and Jeff Burton
Rockford, MI (PRWEB) January 12, 2009
Looking forward to the 2009 racing season, Cat Footwear announces that it has signed a deal with Richard Childress Racing to become an associate sponsor of the No. 31 Caterpillar Chevrolet, driven by Jeff Burton.
Cat Footwear has actively been involved in motorsports racing since 2001, working alongside its licensor, Caterpillar Inc. to leverage the wildly-popular sport. As racing fans have transitioned from the deep South to middle-America, Cat Footwear has intensified its race-related marketing efforts to keep the race fan engaged with the brand.
"We couldn't be happier with the relationship with Richard Childress Racing and Jeff Burton," says Kelly Ballou, Marketing Manager for Cat Footwear. "We are looking forward to the 2009 racing season because Jeff (Burton) shares the same values as our consumers - honest, hard-working men and women with a passion for life."
As an associate sponsor of the No. 31 Caterpillar Chevrolet, Cat Footwear hopes that the partnership between Caterpillar and Richard Childress will result in a winning season for Jeff Burton - and ultimately help get Cat® boots and shoes on the feet of even more racing fans. "Our footwear is built on the same core values as Caterpillar," adds Richard Moe, VP of Sales for the footwear brand. "We make footwear that is rugged, tough and innovative - uncompromising footwear for on the jobsite and off. We think our relationship with racing, and ultimately with Jeff Burton, will resonate with consumers - hard work pays off."
Cat Footwear manufactures shoes and boots that represent the long-standing values of the Caterpillar brand. Known globally for manufacturing high quality work and rugged casual footwear, the company is committed to developing innovative comfort, durability and technology features. Brand and product information available online at http://www.catfootwear.com.
Cat Footwear is a division of Wolverine Worldwide, Inc. (NYSE: WWW), with global headquarters in Rockford, MI., U.S.A. Cat Footwear is a global licensee of Caterpillar Inc. With a commitment to service and product excellence, Wolverine World Wide, Inc. is one of the world's leading marketers of branded casual, active lifestyle, work, outdoor sport and uniform footwear and slippers. The Company's portfolio of highly recognized brands includes: Bates®, Hush Puppies®, HYTEST®, Merrell®, Sebago®, and Wolverine®. The Company also markets footwear under popular licensed brands including CAT®, Harley-Davidson® and Stanley®. The Company's products are carried by leading retailers in the U.S. and are distributed internationally in over 140 countries. For additional information, please visit our website, http://www.wolverineworldwide.com.
Editor's Notes:
For more information about Cat Footwear, please contact Kelly Ballou at 616.863.3818 or kelly.ballou @ wwwinc.com.
###