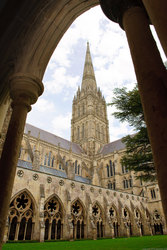 The Pillars of the Earth
Washington, D.C. and Englewood, CO (Vocus) June 29, 2010
Book-lovers and history buffs alike will enjoy an exclusive experience at select Loews Hotels this summer that combines art, drama and intrigue. Beginning Friday, July 9, Loews Hotels in select cities will offer "The Pillars of the Earth" package, coinciding with Starz Entertainment's premiere of its epic 8-hour event series "The Pillars of the Earth" based on Ken Follett's international bestselling novel. The package will include a tour of a landmark cathedral, an autographed copy of Follett's book and a Modern English Breakfast for two.
"The Pillars of the Earth" is a sweeping tale of good and evil, treachery and intrigue, violence and beauty. This sensuous, spirited and passionate story is set against a backdrop of war, religious strife and power struggles in 12th Century England. In that time, there rises a magnificent cathedral in Kingsbridge. The miniseries stars Ian McShane (Pirates of the Caribbean 4, "Deadwood"), Rufus Sewell (The Illusionist), Donald Sutherland ("Dirty, Sexy, Money"), Hayley Atwell (Captain America), Eddie Redmayne (2010 Tony winner for "Red") and Matthew Macfadyen (Robin Hood). "The Pillars of the Earth," directed by Sergio Mimica-Gezzan, is produced by Tandem Communications, Muse Entertainment, in association with Scott Free Films.
Cathedrals are some of the most intricate works of art ever created, and visitors to select cities will tour the architectural puzzles. The package is available at the following Loews Hotels and cathedrals:

Atlanta, GA - Peachtree Christian Church
Montreal, Canada - Basilique Notre-Dame de Montréal
Nashville, TN - Cathedral of the Incarnation
New York City, NY - The Cathedral of Saint John the Divine
Philadelphia, PA - Cathedral Basilica of Saints Peter and Paul
Quebec City, Canada - Basilique-Cathedrale Notre-Dame de Québec
Santa Monica, CA - Cathedral of our Lady of the Angels
Washington, DC - Washington National Cathedral
Available exclusively at Loews Hotels, "The Pillars of the Earth" package, beginning July 9 will include:

Overnight luxurious accommodations
A signed copy of Ken Follett's best-selling book, "The Pillars of the Earth", (while supplies last)
Guided tour of local cathedral
Modern English Breakfast for two, in room or in restaurant
The Loews "The Pillars of the Earth" package is valid Friday, July 9, 2010 to Sunday, October 3, 2010 and rates start at $174. The package is subject to availability and is bookable at eight Loews Hotels in the U.S. and Canada. For more information or to book, call 1-800-23-LOEWS or visit http://www.loewshotels.com.
Tours are subject to availability with tour date and time restrictions and limited to no availability on Sundays. Up to one week advance notice required for tours which require reservations. Transportation to and from Cathedral not included in package.
As part of the Modern English Breakfast guests will enjoy delicious house-made scones with Devonshire cream. Perfect for breakfast or with an afternoon coffee break, Loews Hotels' Corporate Chef Marc Ehrler shares his scone recipe:
Scone Recipe
Ingredients
8 cups all purpose flour
4 tablespoons baking powder
4 teaspoons salt
4 tablespoons sugar
1 ¼ pounds of cold butter
2 cups heavy cream
6 whole eggs
Yield: 22
Method
In a large bowl, mix together the flour, sugar, baking powder and salt. Cut the butter into small pieces and with a paddle blend into the flour mixture. The mixture should look like crumbs. In a cup combine the heavy cream and beaten egg. Add to the flour mixture, and stir just until combined. Do not over mix.
Place dough on a lightly floured surface. Roll the dough into a circle that is about ¾ inches thick. Then, using a 3 inch round cookie cutter cut the dough. Place the cut scones on 2 prepared cookie sheets lined with parchment paper, spacing a few inches apart. Brush the tops of the scones with a heavy cream, and (optional) sprinkle a small amount of granulated sugar.
Bake in the over at 350 degrees for 15 minutes.
About "The Pillars of the Earth"
Ken Follett's book "The Pillars of the Earth," first published in 1989, has sold more than 14 million copies worldwide and has been published in more than 30 languages. The 60th selection of Oprah's Book Club, the book sold upwards of 1.4 million copies in the U.S. after it was featured on her show in 2007. An international bestseller, The Pillars of the Earth is Ken Follett's most beloved and best-selling novel.
About Starz Entertainment
Starz Entertainment, LLC, is a premium movie service provider operating in the United States. It offers 16 movie channels including the flagship Starz® and Encore® brands with approximately 17.1 million and 31.1 million subscribers respectively. Starz Entertainment airs more than 1,000 movies per month across its pay TV channels and offers advanced services including Starz HD, Encore HD, Starz On Demand, Encore On Demand, MoviePlex On Demand, Starz HD On Demand, Encore HD On Demand, MoviePlex HD On Demand, and Starz Play. Starz Entertainment (http://www.starz.com) is an operating unit of Starz, LLC, which is a controlled subsidiary of Liberty Media Corporation, and is attributed to Liberty Starz (NASDAQ: LSTZA), a tracking stock group of Liberty Media Corporation.
About Loews Hotels
Headquartered in New York City, Loews Hotels owns and/or operates 18 hotels and resorts in the U.S. and Canada, including the newest 414-room Loews Atlanta Hotel that opened April 1, 2010. Located in major city centers and resort destinations from coast to coast, the Loews portfolio features one-of-a-kind properties that go beyond Four Diamond standards to delight guests with a supremely comfortable, uniquely local and vibrant travel experience. Loews boasts some of the industry's most innovative and successful travel programs, including Loews Loves Kids for families and Loews Loves Pets for discerning animals on the road. For reservations or more information on Loews Hotels, call 1-800-23-LOEWS or check http://www.loewshotels.com.
###