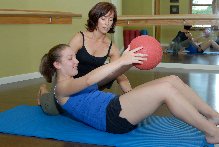 Our students have been thrilled with the results their bodies have achieved
(PRWEB) June 13, 2012
Cathleen Deutscher, Owner and instructor at Fluid Power Fitness has announced the expansion of class offerings in her Sayville, NY studio. Due to the popularity of the dynamic Fluid Power approach the studio has begun a teacher training to add two new instructors this summer and to expand the number of classes being offered. In addition, Ms. Deutscher is an acclaimed dancer and choreographer and will be offering a special opportunity to take a Lester Horton based movement class. Her colleague, Beth Jucovy, director of Dance Visions Ny, will also be giving an Isadora Duncan class for children.
"My passion for teaching and fascination with the human body is so deeply rooted in my dance training and performance experience. The Lester Horton technique has such amazing lines and postures that not only inspire gorgeous dance phrases, but completely and uniquely shape and sculpt the body. It is exactly the meaning behind the studio name- having optimal strength and power with the capacity for full and fluid range of motion." says Cathleen Deutscher of Fluid Power fitness.
"Our students have been thrilled with the results their bodies have achieved and they are always asking for new class times. The addition of two new instructors will allow Fluid Power to meet the needs of our current clients. It will also allow the business to grow as it reaches more people searching for a fun and dynamic fitness class alternative."
The open level barre based Fluid Power classes will be offered 4 mornings a week starting in June, just in time for the summer incentive special which is 3 months of unlimited classes for $300. Teachers in training will also be offering private and semi-private classes under the observation of Cathleen Deutscher, which will give clients more flexibility with individual schedules and further opportunity for real hands-on work to bring their practice to the next level.
The Horton dance class will be an exciting supplement for the popular Tuesday and Thursday night Fluid Power classes, though it can be taken independently. "I have heard so many people say they would love to dance, but are intimidated or insecure about trying." said Cathleen Deutscher, who describes the class as a solid core strengthening, limb lengthening warm-up which prepares the student for luscious and lyrical contemporary phrases that anyone can do. "If you've ever watched 'so you think you can dance' or any live dance performance, and imagined yourself moving that way, then you absolutely owe it to yourself to take this class!" adds Cathleen, who plans to offer 2 seperate sessions, once a week for 3 weeks each.
On July 12th, Beth Jucovy, director of Dance Visions NY will be a special guest teaching artist offering an Isadora Duncan dance class for children ages 4-7. Beth Jucovy is an expert in the Duncan technique, and is the owner/director of'Children Dancing' based in Great Neck. The Duncan technique is all about moving freely and fully, expressing sheer joy of movement, which is perfect for young children." We will focus on Isadora Duncan's technique of dance which stems from the center on out, and includes studies based on natural movements including walks, runs, skips and gallops," explains Ms. Jucovy.
About Fluid Power Fitness:
Founded by Cathleen Deutscher, Fluid Power Fitness offers a barre method class guaranteed to tighten and tone every muscle from the inside out. Fluid Power is an exciting combining elements of Pilates, yoga, dance, and strength training. In each 60 minute class participants will lose fat and inches, gain strength and flexibility, improve alignment and posture, restore a more youthful body and achieve an overall sense of well-being. Classes are designed so both absolute beginners and seasoned athletes can benefit. Fluid Power was developed by Cathleen Deutscher to be a motivating physical challenge that strengthens the mind-body connection, is efficient, energizing, and fun!
About Cathleen Deutscher:
Cathleen Deutscher was trained in Core Fusion™ by creators Fred Devito and Elisabeth Halfpapp. She taught at the highly acclaimed Exhale Spa in New York City, a favorite of celebrities and sports enthusiasts. She holds an MFA in dance from NYU Tisch School of the Arts, where she was trained in Pilates by Kathy Grant, an original protégé of Joseph Pilates.
Cathleen Deutscher has danced professionally with the Joyce Trisler Danscompany, among several modern companies, and co-founded and directed The Ground Floor Dance Collaborative in NY. Currently, she performs with Dance Visions NY.
Teaching credits include Adelphi University, Peridance Center, the American Theater Dance Workshop, The Eglevsky Ballet's summer Intensives at Hofstra University, and NYC public high school, W.C Bryant.