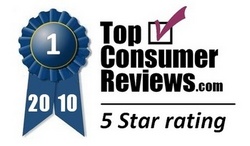 With a significant membership base, professional website, and affordable price, Catholic Match earns our highest rating
Overland Park, KS (Vocus) October 4, 2010
TopConsumerReviews.com recently awarded their highest five-star rating to Catholic Match, an industry leader in Catholic online dating services.
Online dating has come of age. Today millions of people across the country - and the world - have found the advantages that online dating brings. For those seeking specific Catholic qualities, or similar religious beliefs, Catholic dating sites allows people to fine tune their search effort. From the comfort of their own home or apartment, a person can browse through thousands of pictures and profiles, strike up conversations, and develop a relationship with someone that will ultimately be a good match for them in all aspects of their life.
"With a significant membership base, professional website, and affordable price, Catholic Match earns our highest rating," explained Brian Dolezal, of TopConsumerReviews.com, LLC. "Catholic Match caters to people looking for serious relationships and friendships. They take pride in making Catholic values and marriage a priority, and have many success stories. Catholic Match has everything we could ask for in a dating service geared toward Catholics, and they've earned our highest rating."
To find out more about Catholic Match and other Catholic dating services, including reviews and comparison rankings, please visit the Catholic Dating Services category of TopConsumerReviews.com at http://www.topconsumerreviews.com/catholic-dating.
About Catholic Match
CatholicMatch.com is the largest online community for Catholic singles seeking marriage, friendship, and religious discernment. After 10-years Catholic Match has provided a uniquely Catholic experience for the community it serves. While staying true to the teachings of the Catholic Church, Catholic Match has distinguished itself by reaching a broad spectrum of Catholics in the pews understanding the each person is at a different place in their faith journey. Catholic Match now reaches 96 countries while having served over a half million people.
About TopConsumerReviews.com
TopConsumerReviews.com is a leading provider of independent reviews and rankings of hundreds of consumer products and services. From halloween costumes and lice, to online divorce and sports memorabilia, TopConsumerReviews.com delivers in-depth product evaluations in order to make your purchasing decision easier.
# # #