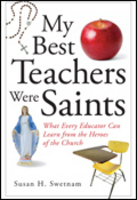 The idea of drawing on saints as human models is a very old one
Chicago, IL (Vocus) March 28, 2009
Great teachers provide their students with lasting inspiration, but who mentors a teacher in how to become exemplary? Author and teacher Susan H. Swetnam draws attention to a group of role models whom educators might not have considered before--the Catholic saints. In My Best Teachers Were Saints (Loyola Press, 320 pp, $15.95, 0-8294-2329-X), Swetnam shares how the saints can serve as a source of wisdom and empowerment for any teacher.
"The idea of drawing on saints as human models is a very old one," Swetnam writes in her introduction, "for the Catholic Church has always considered saints as different in degree, not kind, from the ordinary faithful."
Teachers at all levels and in every subject encounter a common set of challenges that many saints also faced, such as student indifference, resistance from superiors, conflicting loyalties, and feelings of isolation. By exploring the lives of saints such as Augustine, Mother Cabrini, Ignatius of Loyola, and Catherine of Siena, Swetnam shows how the words and deeds of the saints have guided her throughout her own career and how saints embody virtues relatable to teaching, such as compromise, reflection, and perseverance.
My Best Teachers Were Saints includes one brief chapter each on 52 saints. Each chapter contains a biographical sketch of the saint and an essay suggesting how that saint's life and work offer potent lessons for teachers to contemplate. Whether it's learning the importance of order from St. Benedict or how to channel the power of optimism in the style of St. Gertrude, teachers will discover examples throughout My Best Teachers Were Saints that will rekindle their vocation and feed their desire to become lasting positive influences in the lives of their students.
Susan H. Swetnam is a professor of English at Idaho State University. During her career at ISU, she has been named a Distinguished Teacher (1988), an Outstanding Researcher (1992), and a Distinguished Public Servant (1996). She is also a freelance essayist. Swetnam resides in Pocatello, Idaho.
Media Contact:
Michelle Halm
PR & Communications Manager
773-281-1818 x204 or
773-529-3789
###