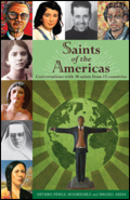 the true expression and the finest fruits of America's Christian identity.
Chicago, IL (Vocus) March 14, 2009
In his apostolic exhortation The Church in America, Pope John Paul II described the Catholic saints of North and South America as "the true expression and the finest fruits of America's Christian identity." For authors Fr. Arturo Pérez-Rodríguez and Miguel Arias, these words attest not only to the vitality of Catholicism in the Americas, but the unique way in which the faith unites people of diverse backgrounds and geography. Pérez-Rodríguez and Arias explore these resounding truths by profiling thirty heroes of the Catholic faith in Saints of the Americas: Conversations with 30 Saints from 15 Countries.
The stories of the thirty saints in Saints of the Americas originate from fifteen different nations of Central and South America, the Caribbean, the United States and Canada. Like other treatments of the saints, the authors strive to show readers how these remarkable individuals imitated Christ in all of their actions. But in Saints of the Americas, the authors go further than simply offering biography by imagining a direct conversation with each saint they profile. This technique allows for a deeper engagement of each subject, so that "the stories of these brothers and sisters become so personal that you have to feel proud of them."
By inviting readers into an intimate dialogue with these exemplars of the Catholic faith, each unique personality is vibrantly rendered. The saints that readers will meet include Oscar Romero, Katherine Drexel, Pierre Toussaint, Maria Romero Meneses, Jorge Gregorio Hernández and many others. In the course of profiling each, the authors continuously contemplated the question of "Would we have the same love, courage, and faith that they had?" and they hope that readers will experience a similar level of reflection.
Saints of the Americas is not simply a celebration of the Catholic faith. The tales of courage and conviction included within the book reveal the Holy Spirit at work in the context of American history. As civic leaders, teachers, missionaries, scientists, and speakers, the profiled saints are all Americans worth noting in any history text. Saints of the Americas serves as both an ideal introduction to America's Catholic saints, and an insightful look at how the Catholic faith is an inextricable part of the American identity.
About the Authors
Arturo Pérez-Rodríguez is a Chicago priest and a well-known author and speaker on matters of Hispanic spirituality and popular religion in the Catholic context. He is the author of Primero Dios and Praying with the Saints, which is part of the Somos Católicos series from Loyola Press.
Miguel Arias is the senior editor of Spanish media at Loyola Press. He holds a master's degree in liturgy and is part of the faculty of the Instituto Cultural de Liderazgo en el Medio Oeste, Tepeyac Institute in El Paso, and the Hispanic Liturgy Institute in Chicago.
Saints of the Americas:
Conversations with 30 Saints from 15 Countries
By Arturo Pérez-Rodríguez and Miguel Arias
Loyola Press
Paperback $13.95
ISBN-13: 978-0-8294-2480-5 ISBN-10: 0-8294-2480-6
# # #