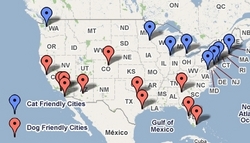 San Francisco, CA (PRWEB) October 9, 2008
MyNewPlace.com, the web's fastest growing apartment search site, announced today that it has uncovered significant geographical differences in cat vs. dog ownership, namely that renters who prefer cats live in northern cities and renters with dogs searched in cities in the south and west.
Among searches for pet friendly apartments, on average renters across the nation search for dog friendly apartments 52 percent more often than for cat friendly apartments. Searches for cat friendly apartments were only significantly higher in northern cities such as Boston, New York and Philadelphia, while dog friendly apartment searches dominated the south and west regions.
In many major cities along the northern rim of the United States and especially in the Northeast, cat ownership rates (based on the number of apartment searches for cat friendly apartments) approach dog ownership. Conversely, the cities where searches for dog friendly apartments were well above the national average were all located across the south and west.
The only city on the west coast where there was some parity between dog and cat ownership was for Seattle apartments. The most southern city which displayed a higher than average preference for cats rate was Washington, D.C. Dogs were most popular among searches for Miami apartments, as renters there searched 75 percent more for dogs. The only city that had as many searches for cat friendly apartments as it did for dog friendly apartments was Boston.
So why is there such a geographical divide between where renters want dogs versus where renters want cats? Perhaps climate is a driving factor, since cats can be kept indoors during cold winter months, but dogs typically need much more time outdoors.
While searches for dog friendly apartments from a national perspective outnumber those for cat friendly apartments nationwide, there are certainly notable differences on how renter's preferences break down according to city; such distinctions are implicit indicators of the differences of lifestyle in different cities around the nation.
About MyNewPlace
MyNewPlace provides the multifamily marketing professional with the most innovative and cost-effective tools to fill their vacancies. From MyNewPlace.com: the industry's fastest growing Internet Listing Service for apartment search, to MyNewSite: the industry's most cost-effective website solution, MyNewPlace puts the best tools in the hands of owners and managers to help market their apartments for rent. A leader in the multifamily industry, MyNewPlace also offers Featured Placement Listings, Community Photography and Video Tours to enhance property listings. Headquartered in San Francisco, CA, MyNewPlace was founded in 2005 by John Helm, the founding CEO of AllApartments/SpringStreet, which became the number one apartment rental and relocation site on the Internet before its sale to Homestore in 1999. For more information, visit http://www.mynewplace.com.
###