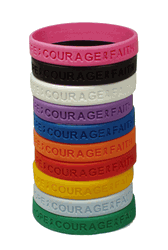 These simple items help create a bond around a shared cause whether in celebration or to further awareness about a pressing health or social issue.
Chicago, IL (PRWEB) April 30, 2013
When someone is spotted wearing a silicon rubber wristband, the color of that wristband likely means something to the wearer. It could even mean they or someone they know is struggling against a life or death health challenge.
In fact, there exists a long list of colors associated with causes that people care about. Trouble is, there really isn't one place to look for the definitive list.
Supportstore has been maintaining this list for 10 years. It is reviewed monthly for updates as well as changes and feedback received from champions of various causes. Thousands of visitors reference this page every month.
The cause awareness colors ribbon list is maintained at http://www.supportstore.com/cause-awareness-by-color.html
A single color, like purple, represents several causes including Alzheimer's Disease, Cystic Fibrosis, Domestic Violence, and Epilepsy.
Someone wearing an orange wristband may be part of a family facing a challenge with Leukemia. Someone with a pink lapel pin may be supporting a breast cancer victory.
Several websites offer items that are color keyed to various causes. SupportStore designs items for many of these causes and keeps 500,000 items in stock for same day shipment, and donates 10% of the profits from health related causes to research for that cause.
On the SupportStore website, for example, a visitor selects "browse by cause" and chooses from a list of 125 different causes, bringing them to a page with a selection of items designed to represent that cause.
The item design and colors are chosen to be consistent with the known colors chosen to represent awareness campaigns for that cause. Quantity discounts display since many items are purchased for families, events or fundraisers.
Whether someone needs just one wristband or one thousand, once they know the cause color, they can choose from the selection of in stock items at SupportStore that ship out the same day.
About SupportStore
SupportStore is an online only retailer of items people and businesses use to "shout out what they care about."
Customers choose from 500 in-stock items that ship same day, such as a "Hope Courage Faith" green silicon rubber wristband or a green enamel on metal lapel pin. Customers can also choose to create a custom designed magnets in quantities of 125 or more, many delivering within 10 days.
SupportStore's "products with a purpose" are low cost ways to help create awareness and raise money for causes that people care about most, primarily through:
--indoor/outdoor oval, circle and ribbon car magnets
--silicon rubber debossed wristbands
--metal lapel pins
--embroidered lapel ribbons
--clear vinyl static clings
With a total inventory of over 500,000 items, SupportStore can supply both consumer needs and businesses with products for fundraising events, awareness programs or memorials.
SupportStore was founded in 1999, has 7 employees, a warehouse in St. Louis, and annually donates a portion of health awareness item profits to charity.