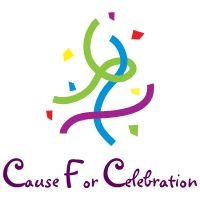 Golinske states, "there is an old Latin proverb that says, "by learning you will teach; by teaching you will learn." Creating this library has taught me far more than I could have imagined."
Farmington Hills, MI (PRWEB) September 27, 2011
Cause for Celebration, LLC has created a new online reference library to help customers find just the right words when sending their message of support, encouragement and love to a family member or friend who is going through a difficult time in life. CFC's President, Susan Golinske, believes this new tool will also:
1) give people an opportunity to feel connected to one another,
2) enlighten card senders about how it may feel to experience major or traumatic events in life, and,
3) provide comfort or sympathize with the helpless feeling people often experience when dealing with miserable subjects like cancer.
In the book entitled, "A Time to Mourn, A Time to Dance," written by Margaret Metzgar, (LHMC), Metzgar talks about the power of written support when sending a special note of encouragement. She states we need to respect and honor the experience a friend/family member may be going through because we cannot fix this, and real support never comes in the form of a quick fix.
Golinske agrees, and as a cancer survivor herself, (who prefers to be called a SurThriver Girl ™ – combining the words survivor and thriver) she has created a unique library that helps not only her customers, but anyone who is searching for those right words. She developed the collection of sayings, bible verses and quotes after trading numerous "war stories" with other cancer survivors and friends about the inappropriate things people may say to someone who is going through a cancer diagnosis, death in the family, etc.
The idea of an on-line library evolved after Golinske first wrote a Blog called: "Things to never say to a cancer patient/survivor." She received so much positive feedback about the Blog http://blog.survivorgirl.org/ that she concluded it was time to reach out further, to help or teach others about how to support and encourage any person who may be going through a traumatic event in their life.
The collection is categorized by subject matter, (click on menu pick: suggested sayings) and a two digit alpha/numeric code precedes each saying so customers can easily refer to the phrase/quote/verse they desire. The inside of each card is purposely left blank which gives customers the option to either write the personal message/words themselves, or for a nominal fee, instruct CFC to print their own words or words chosen from the library onto a special vellum paper that coordinates to the card face, and attaches to the blank right inside.
Many of the sayings, quotes, and bible verses are appropriate for any significant life event, including a death in the family, or major losses like divorce, employment, etc." Golinske considers the reference library to be a work in process, always available for continuous improvement and/or new additions. Visitors and/or customers are also welcomed to submit their own ideas, and many suggestions are seriously considered and may be used in future revisions.
###