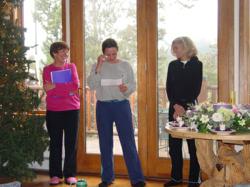 Golinske states, "one of my favorite Bible verses is in Proverbs 3:27: Do not withhold good from those who deserve it when it's in your power to help them."
Farmington Hills, MI (PRWEB) October 26, 2011
Jan Spangler celebrated her birthday this month by holding a fund raising event at the brand new, state of the art, Cancer Support Community Center in Sarasota, Florida,(http://www.cancersupportsuncoast.org). In lieu of personal birthday gifts, she asked attendees to write a check to support this new facility, whose programs are designed to enhance cancer treatment by focusing on the emotional, psychological and educational aspects of well-being while surviving cancer. People affected by cancer learn vital skills to regain control, reduce feelings of isolation and restore hope, regardless of the stage of their disease. The Cancer Support Community is an international non-profit dedicated to providing support, education and hope to people affected by cancer. With fifty facilities nationwide, ten in development and over 100 satellite locations, CSC offers a network of personalized services and education for all people affected by cancer. Jan also donates a portion of the net proceeds to the American Cancer Society from the sale of "Survivor Girl" greeting cards.
Susan Golinske supports another non-profit foundation called Sisters HOPE, (http://www.sistershope.org) whose mission is to enhance the lives of women who have recently completed treatment for breast cancer by providing a safe, supportive environment for self-reflection, education and exploration of the cancer experience with a focus on identifying positive life changes. . The word Hope stands for "Healing Opportunities through Personal Enrichment" (HOPE) and the organization achieves this by providing weekend retreats for breast cancer survivors. This organization began in Colorado, when its founder, Cathy (Glavan) Schulze, lost her battle to breast cancer in 2004. Sisters HOPE continues Cathy's legacy of touching so many lives in such a positive light with every new retreat and each new survivor, and has expanded its reach now beyond Colorado to Michigan and Missouri.
On October 26, 2011 Sisters HOPE will hold its annual fundraiser in Farmington Hills, Michigan. Golinske will attend as both a speaker and vendor at the Event. She was a recipient of this foundation in the fall of 2010, when she attended a weekend retreat in South Haven, MI and this year she will give back to the organization by donating a portion of her sales, in addition to purchasing a table for nine other attendees. Susan also donates a portion of the net proceeds to the Sisters HOPE organization for each sale of the "SurThriver Girl®" greeting card.
###