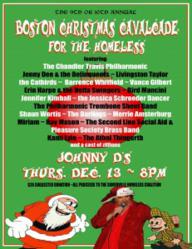 The 9th Annual Boston Christmas Cavalcade Benefit for the Homeless this Thursday, December 13th at Johnny D's in Somerville, MA featuring The Chandler Travis Philharmonic
Boston, MA (PRWEB) December 10, 2012
The 9th Annual Boston Christmas Cavalcade Benefit for the Homeless
Thursday. Dec. 13, 8PM
at Johnny D's
17 Holland Ave.
Somerville, MA
Tickets: http://bit.ly/CavalcadeTix
$20 suggested donation - All proceeds go to the Somerville Homeless Coalition
Featuring the Chandler Travis Philharmonic, Livingston Taylor, Jenny Dee & the Delinquents, Barrence Whitfield, Jennifer Kimball, Vance Gilbert, the Catbirds, Ray Mason, Erin Harpe & the Delta Swingers, Miriam, Shaun Wortis, Bird Mancini, Aaron Spade, Kami Lyle, the Darlings, Sal Baglio, the Classic Ruins, Chris Mascara, the Weisstronauts, Sarah Borges, the Second Line Social Aid and Pleasure Society Brass Band, the Philharmonic Trombone Shout Band, the Athol Thingerth, and more.
The Chandler Travis Philharmonic is a 9-piece ensemble from Boston that includes a horn section, string bass, keyboard, mandocello, guitar, drums, accordion, and singing valet.
The Philharmonic was born in the fall of 1996 at the Lizard Lounge in Cambridge, on the occasion of Chandler doing a guest shot there with a house band led by multi-instrumentalist/singer, Dinty Child. When asked if he would like to add any additional instrumentation, Chandler facetiously suggested "oh yeah, let's get some horns and chick back-up singers." Strangely, Dinty complied with the horn part, booking (among others) trumpeter Keiichi Hashimoto, and the Chandler Travis Philharmonic was born. Later on, drummer Rikki Bates and Keith Spring helped complete the picture. Since then, the band, all colorfully-garbed 8 pieces of them, plus singing valet Fred Boak, have introduced the concept of alternative dixieland and omnipop to audiences all over Massachusetts and beyond.
For more information or to schedule an interview, please contact Melissa Zeigler: melissa(at)powderfingerpromo(dot)com