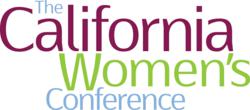 Long Beach, CA (PRWEB) July 10, 2012
The California Women's Conference, which is an internationally acclaimed forum for the world's most influential voices, hearts and minds, will be held at the Long Beach Convention Center on September 23-24, 2012. U.S. women constitute the number three market in the world, with their collective buying power exceeding the economy of Japan,
so this year's theme is "The Women's Economy Starts Here."

Sunday, September 23, 2012: 5:00 p.m. - 8:00 p.m.
Monday, Sept 24, 2012: 8:00 a.m. - 7:30 p.m.
Long Beach Convention Center • 300 East Ocean Boulevard • Long Beach, California 90802
Limited availability $79 (Reg $99) for Sunday, Sept 23, 2012 or
$199 (Reg $249) for both Sunday and Monday, September 24, 2012.
Available at [http://www.CaliforniaWomensConference.com
The exhibit hall will feature "streets," where women can shop from more than 250 vendors. While at the pinnacle of what has been envisioned as a Community Town Square, attendees will discover an oak tree, specially constructed to offer attendees a place to define their goals and dreams through a mobile app system.
For nearly 30 years, women in California have enjoyed a conference that provided a forum for building successful businesses, strengthening careers, and positively influencing the world around them. The California Women's Conference will continue the tradition of empowering women and providing resources in every aspect of their lives, and embracing philanthropy by donating a portion of proceeds to participating charitable organizations.
A PARTIAL LIST OF PANELS INCLUDE:

Influential Ladies of Legislation * The Good News Girls: EMMY Award Winning Journalists * Women Entrepreneurs * Women In Social Media * Women-in-Comedy * Military Women * Women In Sports * Women in Finance * Overcoming Obsticles * From Supermom to Sane Mom * The Women of Walton's Mountain * Legendary Ladies of Stage and Screen * Better Health and Beauty from the Inside Out * Doctors, Drugs, and Gynecological Surgery and more (Speakers and Panel descriptions available upon request
THE FACTS ABOUT WOMEN

As a group, U.S. women constitute the number three market in the world, with their collective buying power exceeding the economy of Japan. (Source: girlpowermarketing.com)
American women spend about $5 trillion annually...Over half the U.S. GDP (Source: She-conomy.com)
Women purchase over 50 percent of traditional male products, including automobiles, home improvement products and consumer electronics. (Source: girlpowermarketing.com)
Senior women age 50 and older control net worth of $19 trillion and own more than three-fourths of the nation's financial wealth. (Source: MassMutual Financial Group-2007)
Women signing 80% of all checks written in the United States. (Source: Faith Popcorn, EVEolution: Understand Women: Eight Essential Truths That Work in Your Business and Life, Dimensions, 2001.)
Women account for 85% of all consumer purchases, including everything from autos to health care: • 91% of New Homes • 66% PCs • 92% Vacations • 80% Healthcare • 65% New Cars • 89% Bank Accounts • 93% Food • 93% OTC Pharmaceuticals (Source: She-conomy.com)
Over the next decade, women will control two thirds of consumer wealth in the United States and be the beneficiaries of the largest transference of wealth in our country's history. Estimates range from $12 to $40 trillion. Many Boomer women will experience a double inheritance windfall, from both parents and husband. The Boomer woman is a consumer that luxury brands want to resonate with. (Source: Claire Behar, Senior Partner and Director, New Business Development, Fleishman-Hillard New York)
In the United States, 75 million moms make or influence 85 percent of all household purchase decisions, representing $2.1 trillion in annual spending power. (Source: prweb.com)
91% of women in one survey said that advertisers don't understand them (Source: She-conomy.com)
As the chief purchasing officer of her household, a mom's influence impacts the purchase of just about everything, including housing, automobiles, consumer technology, travel, healthcare, food, finance and everything in between (Source: GirlPowerMarketing.com)
About the California Women's Conference
The spiritual predecessor of the California Women's Conference (CWC), namely the California Governor & First Lady's Conference on Women was an annual non-partisan event, and was created in 1985 by then-Governor George Deukmejian, to address the high failure rate among women-owned businesses by giving women entrepreneurs greater access to funding and other helpful resources. Selecting the city of Long Beach as the event's host, city officials and businesses quickly became enthusiastic supporters. Then-First Lady Gloria Deukmejian assumed responsibility for the conference, which became known as the California Governor and First Lady's Conference. Since then, the CWC has always attracted a highly respected and celebrated list of speakers. Today, the tradition of enthusiastically serving women-owned businesses continues under the stewardship of Michelle Patterson, CEO of EventComplete.
About EventComplete, LLC
EventComplete, LLC, is a full-service event production company specializing in strategy, production and marketing for large scale conferences, workshops, and festivals with an 'Edu-tainment' flair – entertainment meets education. Although they have been the visionary and creator behind a multitude of successful events across the country, EventComplete's passion and expertise lies in bringing resources to women to help them live their dreams. To learn more about CEO, Michelle Patterson and EventComplete, visit http://www.EventComplete.com.
Media Contacts:
B. Harlan Boll: 626-296-3757 or h.boll@dcpublicity.com
Lisa England: 714-514-9000 or lisa.england@dcpublicity.com
Elaine Marshall: 949-466-6303 or Media@CaliforniaWomensConference.com