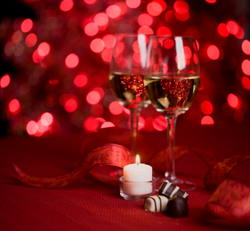 Washington, DC (Vocus) February 5, 2010
Circle Bistro - an enticing downtown Washington DC neighborhood restaurant, serving American cuisine with a French twist. Savor a creative menu of tantalizing French favorites seasoned with a dash of refinement. Located in the boutique hotel, One Washington Circle Hotel, at 1 Washington Circle, NW, Washington DC 20037, this modern yet modest Georgetown DC restaurant manages to feel cozy, sleek, and vibrant -- thanks to crisp service, a wondrous wine list, and a brilliant, sophisticated décor.
Chef Ethan McKee has just released his Valentine's weekend prix fixe menu, celebrating a Love of Food, at Circle Bistro. On February 12th, 13th and 14th guests can enjoy an extraordinary selection of exquisite dishes– Circle Bistro is offering a [four course menu], for only $55. Select from a seasonal yet eclectic menu featuring choices such as Pepper-Crusted Tuna with Cucumber, Mango and Yuzu Vinaigrette or Endive, Apple and Three-Onion Salad with Walnut Vinaigrette, and move on to Diver Scallops with Lentil Stew, Brussels Sprouts, Applewood Bacon and Red Wine Butter. Or perhaps a vegetarian option of Curried Cauliflower with Quinoa, Golden Raisins and Toasted Almonds? Four courses of delicious selections that demonstrate Chef Ethan McKee's mastery in the kitchen. Pastry Chef Peter Brett provides the finishing touches with a choice of Chocolate Semifreddo with Grand Marnier Zabaglione and Raspberries, or Lime Curd Meringue Tart with Pomegranate Sorbet – who can choose? And everyone gets to taste the Petit Fours!
To offer even further choices, there will be a limited a la carte available – so everyone is happy!
Space is limited in this neighborhood favorite, so book by clicking here, or call on 202-293-5390 and make a date for Valentine's.
The dining experience at Circle Bistro is welcoming, comfortable and relaxed.
Originally from Austin, Texas, Chef Ethan McKee grew up around the restaurant business. His first job came at the age of 12, assisting his mother with her catering business. Ethan was just 17 when he landed his first cooking job, running the kitchen at a local sports bar, before he left to attend L'Academie de Cuisine, the Washington area's premiere culinary school.
After his graduation from culinary school, Ethan spent a year working with Chef Bill Jackson at the Great American Restaurant Group's flagship restaurant Carlyle Grand. In 1998 Ethan moved to Vail, Colorado where he spent two years honing his classic French technique at The Left Bank, Vail's top fine dining restaurant. Ethan returned to the D.C. area in 2000 for the opportunity to work with Chef Todd Gray at the award-winning Equinox restaurant in downtown Washington where he worked his way up from line cook Chef de Cuisine.
In the spring of 2007 Ethan was tapped to open the second Rock Creek restaurant location, building the restaurant's "mindful dining" concept into a fine dining destination. Under his direction, Rock Creek at Mazza Gallerie earned critical acclaim and a spot in the Washingtonian's "Top 100 Restaurants." He has now achieved the same during his first year at Circle Bistro, improving the restaurant's ranking in this prestigious list from last year.
Ethan continues his support of local and sustainable products and producers. As Executive Chef of Circle Bistro, Ethan will be incorporating classic French training with his understanding of a lighter cooking style to create outstanding bistro-style cuisine with a nod to his fine dining roots.
###