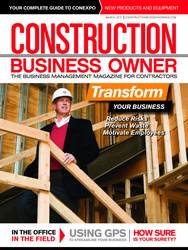 "The new design offers more space for checklists, useful resources and informative statistics," says Jeana Durst, editor of CBO.
Birmingham, AL (PRWEB) February 22, 2011
The new design includes more fast facts and quick reads for the time-crunched business owner, along with longer in-depth analyses of important topics. Now, CBO offers even more practical strategies, checklists, useful online resources and informative statistics. "CBO Online" was added to the magazine's Table of Contents to highlight web-exclusive content as well as online interactive forums such as Hard Hat Connect and our LinkedIn group.
In addition, CBO has expanded its editorial reach with a new section titled "In the Field." This section features equipment-related content that matters to owners. Included are topics that affect the bottom line such as "Selecting a Skid Steer Loader," "Equipment Financing" and "Safe Jobsite Procedures."
Though the design has changed, the core editorial focus remains the same: To provide excellent informative content that helps contractors build better business management practices, not just better structures.
About Construction Business Owner:
A different kind of construction magazine, Construction Business Owner fills a need for the kind of business management knowledge that is of practical value to owners of small- to mid-sized construction companies. CBO provides articles that inform owners and managers on topics including sales, accounting, finance, banking relationships, insurance, regulatory issues, human resources, bidding strategies and industry statistics. Founded in 2004, CBO has a BPA-audited circulation of more than 40,000. http://www.constructionbusinessowner.com
About Cahaba Media Group:
Founded in 2002, Cahaba Media Group is an independent and entrepreneurially-driven publishing company based in Birmingham, Ala. The company publishes four industry trade magazines (Pumps & Systems, Construction Business Owner, Upstream Pumping Solutions and Senior Care Products), seven industry websites, several electronic newsletters and other ancillary products. http://www.cahabamedia.com
###