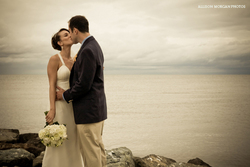 "We are the complete package here for Brides who want a waterfront wedding," Wedding & Events Manager Lori Kirby-Medlin.
Chesapeake Beach, MD (PRWEB) March 1, 2011
Starting in 1946 as the Rod 'N' Reel Restaurant and Marina, the Chesapeake Beach Resort & Spa has grown to become a premier waterfront destination location for anyone wanting to have a quintessential Chesapeake Bay experience. The original restaurant and marina have evolved to include a luxury hotel and full service spa located right on the Bay, a second Marina, two more waterfront restaurants, meeting rooms, waterfront ballrooms, beautiful bay views and beachfront. Amusements at the Resort are many with Bingo and gaming, Charter fishing and other water sports, special weekend packages for all ages and beachside musical entertainment. Co-owner Gerald Donovan states, "With all we have to offer here, this is truly an ideal location for a destination wedding event. We can orchestrate the rehearsal dinner, wedding, reception, wedding brunch, and provide spa services, entertainment and accommodations for the Bridal Party and their guests."
Today's discerning brides are urged to check out this relative newcomer to the Baltimore, Washington DC metropolitan waterfront wedding venue scene. Voted one of the top 10 most talked about venues in D.C., Maryland and Virginia by The Knot Magazine, the resort is minutes from Annapolis and the DC beltway and is one of the easiest accessed by boat from the Chesapeake Bay. Attendees at this year's Bridal Show will enjoy touring the entire resort property including the newly renovated Chesapeake Ballroom, Rod 'N' Reel Restaurant, and up-scale hotel suites. The facility will be dressed in its "wedding finest" to illustrate the various waterfront wedding ceremony and reception scenarios it offers. Brides will be able to consult with the area's leading wedding vendors, view the latest in Bridal Fashion and enjoy complimentary tastings of the Resort's exquisitely catered wedding fare and complimentary champagne. A grand prize of a complete weekend Resort and Spa get-away will be awarded to one lucky engaged couple attending the show.
The Chesapeake Beach Resort & Spa Bridal Show will take place on Saturday, March 12, 2011, from 1 to 4pm. For more information on the Bridal Show or to buy tickets, click here.The Resort complex is located at 4165 Mears Avenue Chesapeake Beach, Maryland 20732, Flashing Green "1" at: LAT 76°31 20 W, LONG 38°41 30 N. For more information on the Chesapeake Beach Resort & Spa and activities, contact 410-257-2735 or visit cbresortspa.com.
###