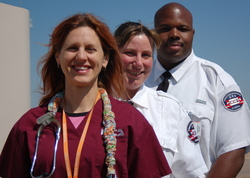 This is a time to bring about a greater understanding of the meaningful profession of corrections.
Nashville, Tenn. (Vocus) May 4, 2010
At CCA , more than 17,000 correctional professionals provide one of the country's most important public services – protecting communities and caring for nearly 80,000 incarcerated men and women – in its prisons, jails and detention facilities.
National Correctional Officers and Employees Week, which runs May 2-8, 2010, is a time to recognize the service and professionalism of those who work in corrections.
Officially proclaimed by President Ronald Reagan in 1987, this special week shows appreciation for correctional professionals' "capable handling of the physical and emotional demands made upon them daily." National Correctional Officers and Employees Week also acknowledges that "their profession requires careful and constant vigilance, and the threat of violence is always present. At the same time, these dedicated employees try to improve the living conditions of those who are being confined."
"This is a time to bring about a greater understanding of the meaningful profession of corrections," said Damon Hininger, CCA president and chief executive officer. "Corrections is about protecting communities, humanely safeguarding incarcerated men and women, and helping them begin new lives with the right skills and tools. And it means being a strong partner to local communities that host correctional facilities. That's what devoted correctional officers and many other professionals with CCA do every day."
A CCA correctional facility has been compared to a small town, with a similar array of services and functions. A typical CCA prison features housing units, classrooms, dining halls, vocational workshops, recreational areas, places of worship and more. Such facilities are staffed by professionals in security, health services, rehabilitation services, education and administration who all do their part to safeguard communities and serve the unique needs of inmates.
"Both Damon and I – and countless numbers of our employees – have spent our entire careers in this proud profession of corrections," said Rick Seiter, CCA executive vice president and chief corrections officer.
Beyond performing a needed public service, corrections professionals in "CCA Communities" also believe in giving back, often volunteering for local events, raising funds for deserving charities and heightening awareness about important causes.
About CCA
CCA is the nation's largest provider of partnership corrections to federal, state and local government, operating more than 60 facilities, including more than 40 company-owned facilities, with approximately 87,000 beds, in 19 states and the District of Columbia. In addition to providing the residential services for inmates, CCA facilities offer rehabilitation and educational programs, including education, vocation, religious services, life skills and employment training and substance abuse treatment. For more, visit http://www.correctionscorp.com and http://www.ccacommunities.com.
CONTACT:
Louise Grant, spokesperson
CCA
(615) 263-3106 or (615) 289-4298
# # #