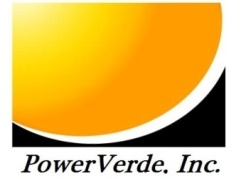 In the short time we have been working with PowerVerde it has become clear that the combination of PowerVerde and CCG's intellectual property and proprietary technology will continue to yield disruptive game changing technology.
Glendale, AZ (PRWEB) November 21, 2011
PowerVerde, Inc. (Nasdaq BB symbol "PWVI") today announced entering into a binding letter of intent ("LOI") to acquire Cornerstone Conservation Group LLC ("CCG"). The acquisition is scheduled to close by December 31, 2011, and the consideration to be provided to CCG's owners and affiliates consists of 2,260,000 shares of PowerVerde common stock and warrants to purchase 300,000 shares at exercise prices ranging from $2.00 – 3.00 per share. PowerVerde plans to leverage the considerable resources of CCG and its principals into additional vertical markets for waste heat recovery, as well as energy conservation technology.
"The CCG team has been instrumental in assisting our efforts to enhance PowerVerde's waste heat recovery system, a renewable electric generating system called the Liberator. CCG brought specialized knowledge and human resources to the project and truly expedited the Liberator's introduction into the alternative energy space, while substantially improving its overall performance and reliability. Their proprietary technology is very complementary to PowerVerde's platform and our existing vertical markets---mainly converting thermal energy into electric power generation," stated PowerVerde CEO Rick Davis. "However, with CCG, we believe we can address additional vertical markets and specifically a technology known as Combined Cooling Heating and Power ("CCHP"). CCHP will utilize waste heat from commercial and residential heating, ventilation air conditioning and refrigeration (HVACR) systems. The CCHP market potential is huge, as we believe that millions of existing or new buildings could benefit from an efficient CCHP energy conservation and electric generating system. In addition, CCG's founding partners, Bryce Johnson and Paul Kelly, have well established industry relationships and distribution channels across North America. These relationships represent the very best organizations in the HVACR industry."
Cornerstone Conservation Group's President Bryce Johnson commented, "In the short time we have been working with PowerVerde it has become clear that the combination of PowerVerde and CCG's intellectual property and proprietary technology will continue to yield disruptive game changing technology, much like the recently introduced Liberator waste heat recovery system. In short order, we have demonstrated these two companies work extremely well together. There is a lot of synergy, and we believe both organizations are well served in combining resources and generating additional revenue streams for PowerVerde and their shareholders".
About Cornerstone Conservation Group ("CCG")
CCG, based in Scottsdale, Arizona, was established in 2009 in response to market trends including Federal, State, and utility incentives for energy efficiency and sustainable technologies. CCG's flagship product, the GeOasis Geothermal Hybrid System (http://www.Geoasis.com) was first introduced and installed in 2008 and addresses the emerging opportunities in the geothermal hybrid space. Historically, geothermal or ground source heat pump technology has experienced limited market penetration geographically due to up-front cost barriers in climates with heavy cooling loads and/or poor soil conditions. CCG has developed geothermal hybrid technologies that overcome these barriers. CCG's intellectual property and patent pending innovations have reduced the upfront costs of traditional geothermal heat pump installations, making the GeOasis HVACR systems some of the most efficient systems on the market. These proprietary processes blend a variety of renewable and energy efficient technologies, including geothermal, solar thermal, solar photovoltaic, biomass, evaporative condensing, and thermal storage.
About PowerVerde
PowerVerde, Inc. (OTCBB: PWVI) manufactures advanced renewable and related energy reduction power generator systems comprised of gas pressure and gas expansion motors. These systems operate without combustion or fossil fuel creating electrical power from any low grade heat source or adequate pressure forum. PowerVerde is an environmentally friendly green company producing zero emissions or waste stream byproducts. For more information about PowerVerde, please visit our web-site http://www.PowerVerdeEnergy.com.
This news release contains forward-looking statements within the meaning of the Securities Litigation Reform Act. The statements reflect the Company's current views with respect to future events that involve risks and uncertainties. Among others, these risks include the failure to meet schedule or performance requirements of the Company's contracts, the Company's liquidity position, the Company's ability to obtain new contracts, the emergence of competitors with better products and/or greater financial resources, the impact of competitive pricing and the termination or limitation of alternative energy incentive programs. In the light of these uncertainties the forward-looking events referred to in this release might not occur.
# # #