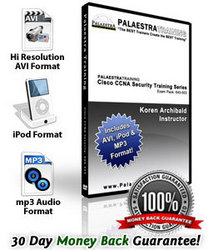 Our customers asked us to develop Cisco CCNA Security Training, says Christopher Rees, President of Palaestra Training. He adds
Medford, NJ (PRWEB) July 2, 2009
Palaestra Training today announced the release of their Cisco CCNA Security Training video series which fully prepares a student for Cisco's 640-553 implementing Cisco IOS network security exam. "Our customers asked us to develop Cisco CCNA Security Training, says Christopher Rees, President of Palaestra Training. He adds "today, network security is an integral part of any network administrator's daily work and our videos help them not only understand those skills and get certified, but we also help them apply this knowledge in real world scenarios."
This advanced topic course on Cisco CCNA Security features over 11 hours of video instruction delivered on DVD. The training comes with multiple file formats, giving customers the ability to access the training in a variety of ways, such as iPod (m4v) Video, mp3 Audio, and high-resolution AVI format. This allows Palaestra Training to deliver their content to customers in ways they can truly watch or listen to anytime, anywhere. The training package helps students prepare for the Cisco IOS Network Security (IINS) 640-553 certification exam. In addition to complete coverage of the exam topics, the package includes a full version of Cisco IINS 640-553 practice exam software from award-winning exam simulation software maker MeasureUp.
Rees added "we are offering this training series -- simply the best Cisco CCNA Security Training at the best price on the market -- anywhere!" For a limited time, customers will receive $25 off the retail price of $249 by using the promo code pr640553.
Palaestra Training's Cisco CCNA Security video training course is instructed by Koren Archibald, a Cisco Certified Systems Instructor (#30837) and award-winning technology consultant who has helped deliver security solutions to the U.S. Government and large international organizations worldwide.
About Palaestra Training:
Palaestra Training is an international IT certification and training video products and services company based in Medford, New Jersey. Palaestra Training was founded in 2006 by senior executives and technologists from the advanced technology and training industries. Built upon the successful "The Best Trainers Create the Best Training" model, Palaestra Training delivers IT certification and training video solutions to hundreds of companies, colleges and universities, government agencies, and non-profit organizations including: The United States Army, Oracle Corporation, Lockheed Martin, Xerox Corporation, and TD Bank. Palaestra Training is privately held and markets its products and services directly and through partners worldwide.
For details visit: http://www.palaestratraining.com.
###