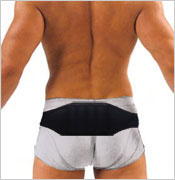 Successful treatment results with Dr Allen's Device are highly encouraging for men all over the world.
London, UK (PRWEB) November 21, 2012
Fine Treatment recommends Dr. Allen's therapeutic device for the treatment of chronic prostatitis that also relieves chronic pelvic pain by notably improving blood circulation in the prostate gland locally without drugs and surgeries known to be risky, damaging to men' general health and, moreover, ineffective.
A study supported by the National Institute of Health (NIH), 'New treatments for chronic prostatitis/chronic pelvic pain syndrome' assesses that, currently, patients' options are limited and far from guaranteed to provide substantial relief from the debilitating symptoms of CP/CPPS. Future studies should focus on targeting appropriate therapies to the appropriate patient populations, developing new therapies, and utilizing synergistic combination therapies.
Antibiotics are important for acute prostatitis but cannot help at chronic stage. According to the Prostatitis Foundation, the American Urological Association Meeting of 2004 revealed, "Although researchers are still looking for a possible infectious cause of CPPS (among others), a large trial of antibiotics showed that this most commonly prescribed therapy doesn't help men with longstanding, refractory CPPS. And the second most commonly prescribed type of therapy—alpha blockers—don't help in these men either."
Nonsteroidal anti-inflammatory medications, NSAIDs, such as Aleve and Motrin, are also in use but taking an NSAID can increase your risk of life-threatening heart or circulation problems, including heart attack or stroke. This risk will increase the longer you use an NSAID. And alpha adrenergic blockers, which are widely prescribed, such as tamulosin (Flomax), may cause dizziness or fainting.
Shocking news on prostate operations are shared by men extensively on Men's-Health forum on Retrograde Ejaculation after Prostate Surgery. A message posted by Roger from Stockholm on 12 February 2012 reveals, "My misfortune than to put myself into the hands of a urologist 3 years ago left me in very bad shape, orgasm speaking. RE, loss of sensitivity, rare to have a orgasm. Very sad when I think of his affect on my sexuality, he even had a student doctor practice on me according to my journal obtained after I started experiencing problems."
Unlike so many useless treatments for CP/CPPS, the Thermobalancing therapy improves the condition gradually but reliably. The Oxford Innovation Centre has interviewed a patient who explains how he used to suffer before opting for Dr. Allen's device, which has eased the disturbing symptoms of prostatitis naturally: http://www.youtube.com/watch?v=a48bbQJQsdE.
"User testimonials show that those who have been suffering from this disorder for a long time should expect to take more time to recover," says Dr. Simon Allen. "Successful treatment results with Dr Allen's Device are highly encouraging for men all over the world."
Dr. Allen's Device for Prostate Care is very easy to use. Worn as a comfortable belt, it integrates into the lifestyle of its users perfectly. Read more at http://finetreatment.com/chronic-prostatitis-cpps-treatment/.
About Dr. Simon Allen and Fine Treatment:
Dr. Simon Allen is a highly experienced medical professional. His specialty is in the internal medicine and cardio-vascular field. He has treated a wide range of chronic diseases, including patients after a heart attack, with kidneys problems, including kidney stones disease, prostate and spine conditions. Fine Treatment exclusively offers Dr Allen's devices for prostate treatment: chronic prostatitis and BPH, coronary heart disease, dissolving kidney stones, as well as for back pain and sciatica relief.