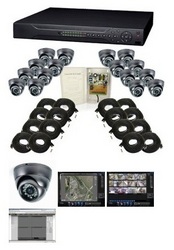 We have been offering our best in industry tech support to all of our dealers. But recently we implemented our new online Help Desk which now allows access to our tech support to all of our customers.
Deerfield Beach, FL (PRWEB) October 1, 2010
SecurityCameraKing is now offering this same tech support to all customers. Jesus Ragusa, Technical Director explains, "We have been offering our best in industry tech support to all of our dealers. But recently we implemented our new online Help Desk which now allows access to our tech support to all of our customers."
"We offer multiple levels of tech support for our customers. We realize how valuable it is to provide the experience and expertise of our staff to all of our customers. " says Pat Cassese, Vice President . "Once a customer purchases our equipment, they want the peace of mind of knowing that our technical support team is here and ready to provide assistance and direction for our customers. From our Online Help Desk, they have 3 options for tech support. They can use our Online Forum to search and discuss issues with other members of our CCTV community, they can submit a request for online direct assistance from our tech support team or they can contact us directly by telephone or live chat from our website" says Cassese.
SecurityCameraKing.com believes strongly in their support infrastructure. The security camera industry as a whole can be very technically challenging and their belief is that their best in industry tech support distinguishes their company from all the other CCTV surveillance websites out there. Brad Besner, President and CEO of SecurityCameraKing.com explains "Our goal is to provide the absolute best value when it comes to CCTV equipment. We have over 600 security dealers certified to purchase our equipment, for them we are able to provide alternatives to the huge markups that other CCTV distributors charge. We buy direct from the factory and pass the savings on to the dealer." Besner continues, "Now the consumer has access to the exact same equipment and can save thousands of dollars on a typical system. We realized that the biggest obstacle for the average consumer was the technical nature of our industry. Now, all of our customers can tap into the tremendous resources we offer."
Matt Stetson, Sales Director says" I often get phone calls from customers just to praise our outstanding commitment to service and technical support. Our customers are so impressed when they realize that our tech support staff is able to log in to their network remotely from here and literally set everything up for them! Most of our customers know very little about networking, but I explain to them that they don't need to…just leave it to us!"
If you spend a little time with this amazing team, their commitment to service becomes apparent. As orders come in they push hard to make shipping deadlines, when the phones ring, there is always a sense of urgency to help the customer. Their commitment to service doesn't end there. According to Michael Sharf, outside sales manager " We are here for our customers from A-Z. I myself have planned many installations for our customers. They provide me with the specifics of their location and I will provide them with a plan that will meet their security needs. So in essence, we are here to help the customer from the planning stages and all the way through the installation project. We have hundreds of satisfied customers every month and we don't rest until the customer is happy".
SecurityCameraKing.com is a manufacturer, distributor and reseller of state of the art CCTV equipment to both security dealers and consumers. Their focus is value. The best surveillance cameras & equipment, for the best price, with outstanding best in industry technical support.
Among the thousands of customers that trust SecurityCameraKing.com CCTV equipment and technical support are some very impressive names. The ATF (Bureau Of Alcohol, Tobacco and Firearms), Department of corrections of several states, Barnes Federal Building, US Army, US Navy and countless communities and governmental agencies.
SecurityCameraKing's impressive equipment lineup includes their most popular Elite-Mini, Elite and Ultimate Series DVRs. These DVR Systems offer features only found in much more expensive units that include H.264 compression, high end digital processing, sub streams for remote viewing while recording at the highest quality possible and free mobile viewing applications for IPhone, IPad, IPod, Android, Windows Mobile, Nokia and Blackberry. The Ultimate Series DVR is one of only a few in the market capable of recording the highest resolution (D1 or 720x480 pixels) , in real-time (480fps), on all channels at the same time. This unit is able to provide 4 times the detail of most other DVRs while still recording real-time video. Combine these DVRs with our industry leading 3 year manufacturer's warranty and you have the recipe for success.
###