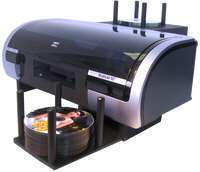 Old Saybrook, CT (PRWEB) May 22, 2009
CD Dimensions introduces a new auto-loader CD printer for labeling CDs and DVD that is the only automated CD/DVD printer offering standard HP ink cartridges. The Recordex StudioJet CD printer uses a two ink cartridge system that utilizes HP black and color ink that is widely available in office supply stores and discount stores thus lowering cost per print significantly. Based on competing CD printers the savings is around $40 per set of ink cartridges. This is about half the cost of other proprietary inkjet disc printers like Microboards Technology's PX-1 and the Primera Bravo II printer-autoloader.
The Recordex Studiojet 50 and 100 CD and DVD printer features disc labeling software Discus LE for StudioJet 50™ & Apple QuickTime 7.0 although the Recordex StudioJet CD DVD printer does not support Mac at this time. A full set of ink cartridges is included along with an installation & driver setup disc and user manual. Set-up and operation of the Recordex StudioJet 50 ink-jet printer is simple and designing CD labels with Discus LE labeling software can be accomplished by novice and pro alike.
With lowered printing costs the Recordex StudioJet CD printer is an excellent solution for musicians, studios, church, audio ministries, PR companies and anyone who wants to make high quality disc labels at the most economical price point.
Recordex CD printers stand to be a game changer in these tough economic times by actually providing a cost effective solution to disc labeling and breaking through the high cost of ink with other competing disc printer auto-loaders.
CD Dimensions offers both the Recordex StudioJet 50 and StudioJet 100 CD printer and can provide free samples of the printer output to organizations interested in evaluating the Recordex StudioJet for their CD and DVD labeling needs. With half the consumable cost of any other comparable CD/DVD printer the StudioJet is the new standard in inkjet disc labeling.
About CD Dimensions:
Established in 1995, CD Dimensions, A value add CD printer reseller for the leading manufacturers in CD/DVD printing, printable CDs and printer ink cartridges. CD Dimensions can be accessed on the web at http://www.cddimensions.com
###