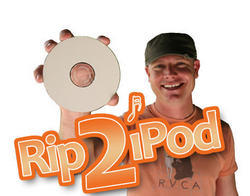 Rip2iPod bundles the entire cost of CD Ripping into one low price.
Rancho Santa Margarita, CA (PRWEB) June 15, 2010
Rip2iPod launches an all new CD music ripping service to aid music lovers convert their CD library to digital MP3s.
The CD Ripper Service is one of the largest CD conversion centers in Southern California. The Rip2iPod service includes a full menu of CD ripping services to convert your CD collection into a pristine digital library. With this new CD Ripper service, it has never been easier to build your digital music library from those old, forgotten CDs.
"CD ripping is a daunting task for most music lovers. They either don't have the time or don't have the resources to go through the slow and arduous process of ripping individual CDs to MP3.," says Greg Morris, Manager, Rip2iPod. "Our CD Ripper program gives music lovers a convenient and economical option of converting their CDs to MP3."
Rip2iPod bundles the entire cost of ripping CDs into one low price. The cost includes shipping, in-depth meta data tagging which includes genre, album artwork, album creation date and much more. In addition, the CD ripper process includes verification with on-line databases to insure CDs are ripped at the highest quality. Various bit-rate settings are available along with file format preferences.
Morris continues, "Our CD ripper service includes a DVD digital archive of your new MP3 files, or a USB hard drive. These options insure the client will finalize the digital conversion by placing their new MP3 library into their iTunes or preferred media player program."
Rip2iPod is located in Rancho Santa Margarita California and serving all the United States, but also welcomes Will Call drop-offs for local customers. Lead time depends on the CD collection size and discounts are available for larger CD libraries.
To contact Rip2iPod please email, call or visit us on-line at: http://www.rip2ipod.com
About Rip2iPod:
Rip2iPod is a professional digital conversion center for optical media to digital archive. CD ripper services include both audio and data projects. Rip2iPod welcomes Will Call customers and offers a profitable affiliate program. U.S. headquarters at: 22521 Avenida Empresa #128, Ranch Santa Margarita, CA 92688.
Rip2iPod
949 481 6479
http://www.rip2ipod.com
###