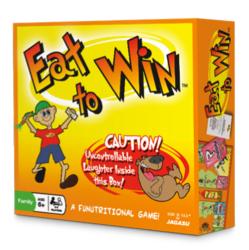 Highland, Michigan (PRWEB) February 20, 2013
Eat to Win LLC, makers of FunNutritional games and products are pleased to see that a recent study by the Centers for Disease Control (CDC) shows that obesity prevalence among children declined from 15.21 percent in 2003 to 14.94 percent in 2010, and prevalence of extreme obesity declined from 2.22 percent in 2003 to 2.07 percent in 2010.
The research was published in the Journal of the American Medical Association (JAMA) on December 26, 2012. Although the reduction in prevalence of obesity and extreme obesity are encouraging, the study also found that childhood obesity can lead to other health problems as the children age, like Type 2 Diabetes, cancer, osteoarthritis and stroke.
Dr. Gary Gabel, Co-Founder of Eat to Win, says, "These numbers are still way too high. When children are obese or extremely obese, their entire lives are affected. They will go through childhood and adulthood facing a myriad of emotional and physical issues."
Jammi (pronounced Jamie) Roscoe, Chief Executive Director of Fun for Eat to Win, says, "We have seen too many instances of overweight children being bullied by others. By learning the importance of proper nutrition and appropriate exercise, these children can turn their lives around. That's why we designed the series of Eat to Win Board and Flash Card Games and our Food Trackers—to help children focus on eating right and getting the appropriate amount of exercise."
For more information, please visit http://www.eattowingame.com
About Eat to Win:
Eat to Win was created by a concerned mom whose own child struggled with being overweight. Child obesity in America has become a major issue. An unhealthy lifestyle is a common problem among children and adults. Eat to Win was created to help encourage nutrition and exercise through fun and active games. Please share your stories with us on Facebook and Like Us to receive a discount! Our games are in agreement with ChooseMyPlate(dot)gov.