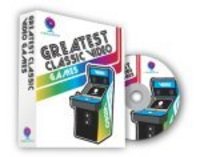 Dallas (PRWEB) June 1, 2008
CD Earth LLC, (http://www.cdearth.com) is excited to announce the release of the Greatest Classic Video Games CD now available for Windows PC and Mac OSX.
The new CDEarth CD includes 10 classic games and will be a sure hit with anyone who played the original video games. Stack falling bubbles, break through brick walls, stack colors against the clock, eat cookies while avoiding pesky ghosts, pop balloons with harpoons, smash tomatoes plus rescue a princess all while putting your spaceship back together.
Preview of some of the classic video games on the CD:
1.Break through over 50 unique, challenging levels. Power the bouncing ball to smash through brick walls. Lots of power-ups plus extra balls, energy balls, extra lives, weapons, glue, bonus floors, paddle expansion and extra score make the game even more fun.
2.Gobble up cookies while escaping from hungry ghosts in this updated version of the classic arcade game.
3.Smiling bubbles. Don't let the friendly smiles fool you. Group the falling bubbles to make them explode before they reach the top.
4.Pop balloons with a harpoon and avoid being hit in this fast-paced game.
5.Run and jump through multiple worlds, fighting off enemies by jumping on them or bumping them from below.
6.Eat your tomatoes. How many tomatoes can you smash in ten short minutes? If you have the time to spare, this game has the vegetables just waiting to be eliminated!
7.Colorful, addicting game where you quickly lineup blocks of the same color before time runs out.
8.Guide a lost traveler from outer space, through towers and across cemeteries to collect what he needs to rebuild his spaceship.
Customers can get this Greatest Classic Video Games CD for free by test-driving the CD Earth Software Library Club: http://www.cdearth.com/classic-games.htm
About CD Earth, LLC
CD Earth believes everyone should experience the benefits of a great software library. To help customers expand their software library, CDEarth offers a wide variety of some of the finest quality software on the market today through its unique Software Library Club. CD Earth's catalog includes software for families, children, home and office, computer graphics. and, of course, computer games.
###