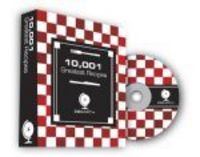 Dallas, TX (PRWEB) October 15, 2007
CD Earth, LLC is excited to announce the release of 10,001 Greatest Recipes CD with free recipe manager software, now available for Windows PC.
A few of the recipe categories in this collection:
· Appetizer recipes
· BBQ and Barbecue sauce recipes
· Beans recipes
· Cakes recipes
· Casseroles recipes
· Chicken wings recipes
· Beef recipes
· Chicken recipes
· Cookies recipes
· Dessert recipes
· Fish and other Seafood recipes
· Holiday recipes (Christmas, Easter, Thanksgiving)
· Pizza recipes
· Pork recipes
· Salads recipes
· Sandwiches recipes
· Vegetarian recipes
There are thousands of specialty dishes from around the world including Afghan, Cajun, Chinese, German, Greek, Indian, Irish, Italian, Jewish, Mexican, Middle East, Polish, Russian, and Satay/Thai recipes.
There are also special diet recipes including low-fat recipes, sugar-free, diabetes recipes and Kosher recipes. There are recipes for Crockpots and slow cookers, microwaves, barbecue grills and smokers and recipes that can be mixed with a spoon and with no other equipment required.
The recipe manager software makes it easy to search and organize thousands of recipes by categories, recipe name, ingredients, cuisine, nutritional information and more. The software can automatically generate and print a shopping list from selected recipes and even calculate nutritional information.
Get this CD for free by test-driving the CD Earth Software Library Club. Visit http://www.cdearth.com/free-food-recipes.htm
About CD Earth, LLC
CD Earth (http://www.cdearth.com) believes everyone should experience the benefits of a great software library. To help customers expand their software library, CD Earth offers a wide variety of some of the finest quality software on the market today through its unique Software Library Club. CD Earth's catalog includes software for families, children, home and office, and computer graphics.
###